N/A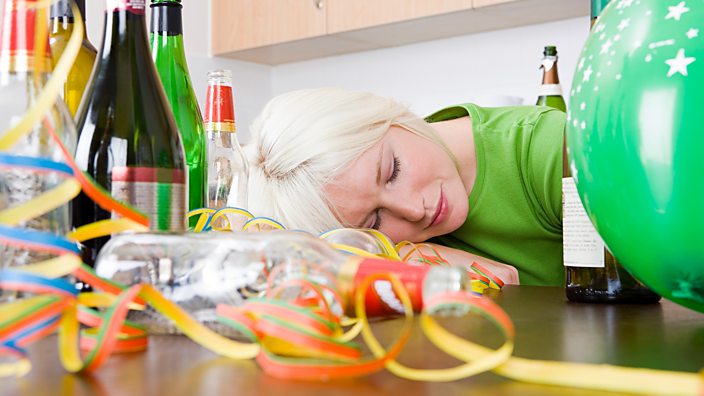 Getty
How to totally win at Dry January
Preparing for a month off booze? We're here to help
Fridge stocked with fizzy water and fancy cordials? Check. Calendar groaning with invites accepted in December that you're now wondering how to cancel? Check. Feeling of dread? Check.
Yep, you're on the brink of Dry January. It might seem like a mountain to climb, but if you're thinking of abstaining you're in good company. 
We spoke to Alcohol Concern and they told us around 768,000 18-34 year-olds are planning to 'do' Dry January - but the number's actually likely to be a lot higher since not all those who take part will register with them. So if you're one of the lucky ones(!) and perhaps trying it for the first time, here's how to conquer this month on the wagon.
Plenty of people will try to break your will power, so make a list of the reasons it's good for you to stick at this. Pin the list to the fridge, take a picture and make it your phone's home screen.
Gemma McCrae, a life coach at Prosperitykitchen.co.uk, says: "Aside from the health benefits, going booze-free will probably save you a lot of money, help you lose weight, improve your concentration and productivity, improve your skin and, most importantly - and most frequently over looked -, make you feel happier! Hangovers are the worst for making people feel low and anxious."
Psychotherapist Hilda Burke has worked with young people struggling with alcohol dependence. She says: "It's good to see how you are without something you usually rely on. It can help you see how alcohol serves you or doesn't serve you. Removing alcohol can feel like self-denial, like it's a punishment. Try to see it differently – ask 'what can this give me or bring me?'"
There are lots of apps to help you chart your alcohol consumption – or lack of. Alcohol Concern, which launched the original Dry January five years ago, has Dry January and Beyond which lets you input how much you usually drink, and calculate how much money you'll be saving by taking part. You can also download my alcohol tracker from Cancer Research UK.
Fitness apps can help, too. Exercising (and smugly logging it as you go) means you'll spend less time worrying about that bottle of random stocking-filler party booze that 'needs finishing off' and more time trying to hit your PB.
Lauren Booker is an alcohol consultant at Alcohol Concern. She says: "Planning is the key. Tell your friends and family too. Prepare them for it. If friends are doing Dry January, start a WhatsApp group, Lauren adds. "Whatsapp is better than Facebook because it will just be people doing the same thing, giving and getting support from each other."
Mel Johnson who runs wellness blog Bestselfology has done Dry January twice. She says: "Many people sent me all sorts of evidence of why Dry January was a terrible idea and why it was actually bad for me, in order to try and persuade me not to do it. I was surprised how 'anti' some people were. A few admitted they were nervous I'd think they weren't as much fun if I was sober!"
Luxuriate in that no-hangover bliss
If there's just one thing, and one thing only, that will keep you committed to avoiding that big bender, it's the feeling of NO HANGOVER. Once you've had one Saturday or Sunday with no hangover, the next weekend or night out will be easier to handle. Add in some fun weekend plans, and your smug levels will hit the roof. 
It could be anything from a gym class to breakfast at that coffee shop you always miss because you're too hungover to get there in time. Gemma McCrae says: "Use this as an opportunity to try new things." And track your moods, she adds. "Get a lovely notebook and write how you're feeling. I can pretty much guarantee, a lot better."
Going sober probably won't mean total avoidance of the bar, so then you're into the quagmire of what to drink. Same goes when you're at home with friends over. If you want to avoid the calories of fizzy drinks and mocktails, it can sometimes seem like your only options are water, water, or water. Hmmm.
But there are plenty of brilliant new non-boozy drinks out there, says Lauren Booker. "Pick your January drink so you're not on the spot and avoid buying in rounds. This is a chance to experiment with things like nice cordials."
You can also choose from a whole host of bespoke tonics (Elderflower is always a winner) or my personal favourite, Ginger Beer. Add a chunk of lime and you've got yourself the closest thing to a Moscow Mule. You can always opt for the diet version too.
Possibly the best side effect of Dry January is your wallet is gong to be a lot fatter. Bye-bye putting £30 in the kitty on a night out, hello saving cash after Christmas. Some people also do Dry January to raise money for charity, of course. But if you just need to tighten your purse strings, then this is a fantastic way to go about it.