N/A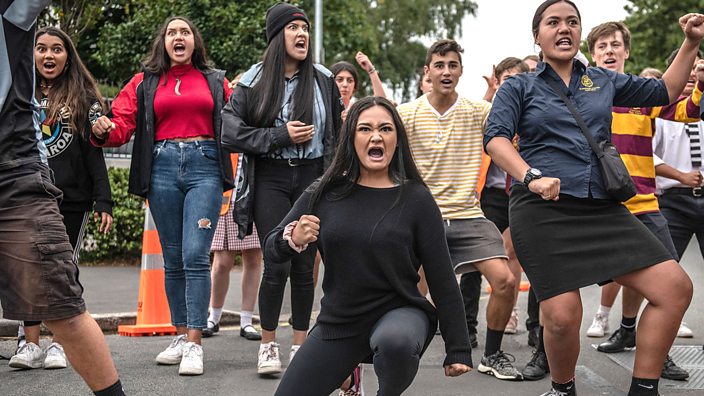 Getty Images
How young people are responding to the New Zealand terror attack
And why the whole world is talking about Egg Boy
The world reacted with shock, horror and grief after a gunman entered two mosques in Christchurch, New Zealand on Friday, killing 50 people and wounding dozens of others. Vigils have been held, social media has been flooded with heartbroken posts, and one Australian youngster, forever immortalised as Egg Boy, has inspired murals and memes after pelting an egg at a far-right politician. 
A group of New Zealand students even took part in an impromptu, emotional haka - a ceremonial Maori dance - to honour two of their slain peers.
An Australian man, 28, a self-described white supremacist, has been charged with murder. "It is clear that this can now only be described as a terrorist attack," New Zealand prime minister Jacinda Ardern said soon after the shooting.
A number of young people were counted among the victims, including 14-year-old Sayyad Milne, who dreamed of being a footballer when he grew up, 21-year-old Talha Rashid, who had just got a new job and was hoping to get married soon, and 33-year-old Atta Elayyan, the goalkeeper for New Zealand's futsal (a form of five-a-side football) team.
The youngest victim is believed to be Mucad Ibrahim - just three years old - who was visiting the place of worship with his brother, Abdi, and their father. Mucad was described as energetic and playful. "[He] liked to smile and laugh a lot," his brother Abdi told local news site Stuff.
Young Muslims, in particular, in New Zealand and around the world, have been grappling with the attacks on the Al Noor and Linwood mosques - and what they mean for their community. 
"My immediate emotional reaction was one of shock, of grief, of deep pain," 29-year-old Sayed Alkadiri, a PhD student and chairman of a young person's leadership group, tells BBC Three. "And I was afraid because it was Friday, when tens of thousands of Muslims go to their mosques for Friday prayers and there was a real risk of attacks inspired by what happened in Christchurch."
And Sayed, who lives in London, wasn't alone in being frightened.
"I'm truly broken by [the] events in New Zealand," added Zamzam Ibrahim, from the National Union of Students, on Twitter. "This terrorist attack that happened thousands of miles away from me, has had me in floods of tears feeling more vulnerable than ever before.
"To hear that the final words of one of the victims who opened the door to the attacker was 'welcome brother' is heart-wrenching"
But Sayed, who attended a vigil outside Finsbury Park mosque on Friday, experienced the reality of Islamophobic violence on the streets of Britain well before the attack in New Zealand. "Many of my friends and family have faced Islamophobic violence, from having their hijabs pulled off, to being spat on in the street, to verbal abuse online," he says.
Last year, police recorded a surge in hate crime directed at people in England and Wales because of their religious beliefs, with incidents rising by 40% - from almost 6,000 in 2016-17 to more than 8,000 in 2017-18, according to Home Office data.
More than half of religious hate crime - 52% - was aimed at Muslims.
I believe social media is certainly a driver for Islamophobia, but ultimately it's people that are tweeting the abuse
Young people have been making their voices heard at vigils and protests after the attacks in New Zealand.
"There were many prayers and vigils held at mosques all across the UK after the attacks," says Sayed, who also points out that another 'solidarity vigil' was planned to take place outside a prominent media headquarters in London on Monday evening. A Facebook page for the event attracted almost 700 attendees. 
"I believe social media is certainly a driver for Islamophobia, but ultimately it's people that are tweeting the abuse," says Sayed. "The issue is in society and how the press has peddled a narrative about Muslims. Social media may be a platform for Islamophobia, but to solve the problem we will have to tackle the hostile atmosphere in society against Muslims."
Many young Muslims shared their grief at the attacks online, with some sharing thoughts and memories about their own places of worship under the hashtag #MyMosque.
"#MyMosque is where my heart is," says Yusuf on Twitter. "It's where I can go in times of hopelessness and feel at peace."
And young people turned out to support Muslim communities in Australia, offering sympathies and solidarity at a candlelight vigil at Wollongong's Omar Mosque, for example. "The mosque was full so there was a very good sense of unity and a lot of sorrow, a lot of sadness," Mosque chairman Munir Hussain said. "It was nice to know that they are with us."
Alex Johnson, head boy at a school in Wellington, New Zealand, told Stuff after the attack: "It was heartbreaking - that it happened at a mosque as well - and I couldn't stop thinking of my Muslim friends. I have lots of them.
"Before this happened we didn't have a care in the world, now we know we have to watch each other's backs more. My friends have talked about waking up this morning and realising it wasn't a bad dream: it was real, it wasn't hyperbole."
But perhaps the most viral reaction from a young person to the New Zealand attack was 17-year-old Will Connolly, from Melbourne.
Will, who will undoubtedly forever now be known as Egg Boy, struck far-right Australian Senator Fraser Anning with an egg following the lawmaker's comments about Muslims and the terror attack. On Friday, the senator said the shootings were the result of Muslim immigration into New Zealand. 
A fundraising page reportedly linked to the teenager has already raised tens of thousands of pounds. Some of the money has reportedly been set aside for legal bills but most will be donated to the shooting victims, according to the New Zealand Herald.
And Connolly was instantly immortalised in memes and in murals.
Van T Rudd, the award-winning Melbourne-based artist who painted the mural of the egging, said he was 'horrified and extremely saddened' by the attack in New Zealand. "I live and work in areas that have many migrants and refugees, so I immediately thought of their safety," he tells BBC Three.
The mural took Van around 30 minutes to paint, using a portable projector to trace the basic image along with a selection of acrylic house paints, paint rollers, a large paint roller pole and brushes.
Asked why he landed on Egg Boy as his inspiration, Rudd says: "When the young man now popularly known as Egg Boy splattered a raw egg onto the head of the far-right politician Fraser Anning during a speech, I thought this would be a great opportunity for a mural.
"There was something unique about the timing of the young man's show of defiance and I wanted to add to this defiant atmosphere. The Egg Boy tapped into it in a very simple and effective way so I thought, 'Why not extend his actions to the accessibility of street art and reach even more people?'
"That's why I felt the mural image had to visually reflect what people had already seen on viral videos. It had to be immediately recognisable."
Although Connolly's behaviour was criticised  by some, for others it was just the right reaction. Sayed says simply: "What a hero!"