N/A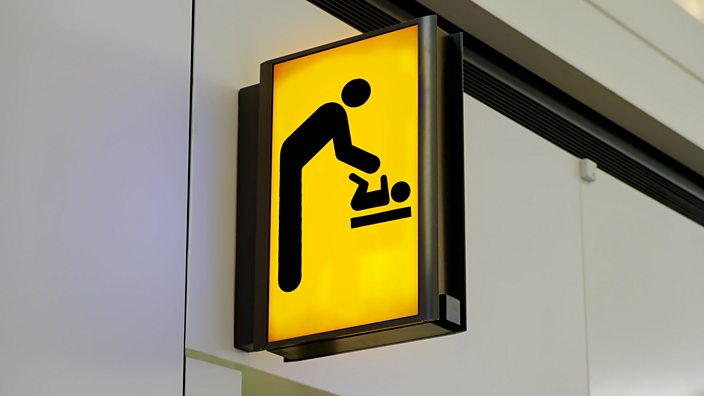 iStock
#SquatForChange: Dad's campaign for changing tables in loos goes viral
Because it's 2018, people
It's official - dads have upped their nappy-changing game in the last few decades. And yet, when it comes to nappy-changing tables, many public bathrooms have yet to catch on.
Dads often find that baby-changing facilities are in the women's toilets, and so they're forced to locate alternative (and often make-shift) changing spaces.
That's what father-of-three Donte Palmer showed when he created the #squatforchange campaign with a recent Instagram photo. Backed up against the toilet wall and squatting down, Donte changed his one-year-old's nappy while the baby was balanced across his knees. Looks uncomfortable, right?
He aired his frustrations in the viral post.
 "What's the deal with not having changing tables in men's bathroom as if we don't exist," he says. "Clearly we do this often because look how comfortable my son is. It's routine to him!!!! Let's fix this problem!"
The picture struck a chord – a repost to Twitter saw dads far and wide tweeting in agreement:
Women offered supportive voices to the campaign too: 
Other dads have been inspired to share photos of themselves changing their children using the campaigning hashtag #squatforchange. 
And one Tweeter was quick to show how changing facilities should be.
According to dad and parenting blogger Jamie Day, it's not the norm to have baby-changing facilities in men's toilets in the UK either.
"They do exist, but they're pretty uncommon," he says. "In most circumstances, they're in the women's or disabled loos."
Jamie agrees that now is time for a change: "It's 2018, men need changing facilities when they're out and about with their kids." 
In the past, the lack of options has meant he has had to resort to changing his children on floors. One particular time when he was out alone with his daughter sticks in his mind.
"Her nappy needed changing urgently – it was causing her great distress," he said.
They went into the nearest pub, only to find the changing tables were in the women's toilets. "I headed into the men's, and changed her on the cold and dirty tiled floor," he said. "I think I used an entire loo roll to cover as much of the floor as possible and create some level of comfort for her. But the whole experience was awkward and unpleasant, with men shuffling around me as I was squatted on the floor."
This isn't the first time that a lack of changing tables in men's bathrooms has gained so much attention. In 2015, actor Ashton Kutcher launched his own petition calling for universally accessible changing tables to be installed in toilets in the US. The BABIES Act was passed a year later, which required changing stations to be put in all men's loos in federal buildings across America.
Jamie hopes to see progress in the UK. "In a perfect world, I'd prefer to see changing facilities in a unisex space," he says. "At the very least, a fold-down table, with some privacy, should be supplied in men's public loos."
Raymond Martin, director at the British Toilet Association (BTA) told the BBC in 2016 that, in the UK, we don't have specific legislation when it comes to baby-changing facilities. "Putting baby change into male facilities was overlooked," he said. He estimates that 20 years ago, no more than one in 10 male toilets had a proper place to change a nappy. But in 2016, that number was probably nearer to two-thirds.
Perhaps with men like Jamie and Donte highlighting the issues men can face when out alone with their kids, changing-table equality could finally be on the agenda.