N/A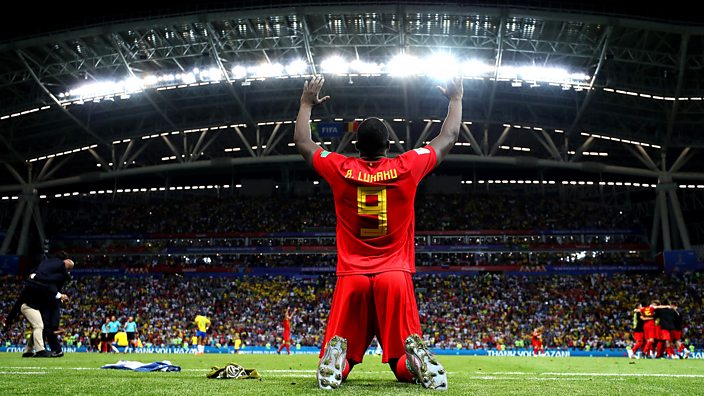 Getty - photo by Lars Baron
The best photos from the 2018 World Cup
These photographers captured all the action from unseen angles - even from ground level with a bunch of players piling on
The past four weeks were a rollercoaster of emotions for fans all over the world - and photographers have been on the frontline of the action in Russia capturing every gasp, every tear, and even every time Neymar fell to the ground.
We've compiled some of their best work that shows the beautiful game in all its glorious light - the photos that best captured the highs and lows from what turned out to be one of the most unpredictable World Cups.
Ronaldo helps Cavani off the pitch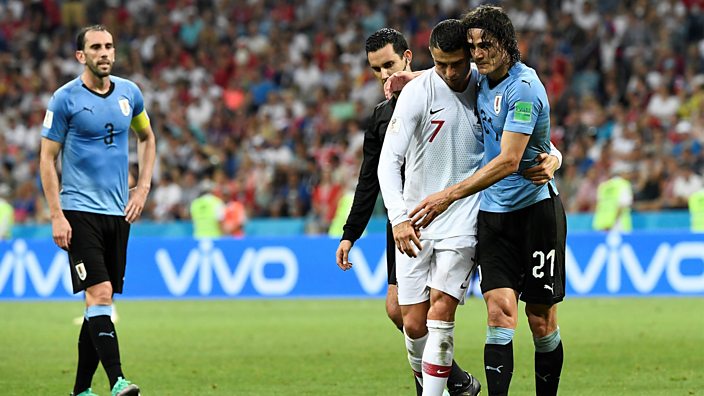 Cristiano Ronaldo pulled off an extremely classy act in Portugal's knockout-stage tie with Uruguay after Edinson Cavani went down injured.
Despite Cavani having scored two goals earlier in the game, which ultimately knocked out Portugal, Ronaldo felt compelled to give him some support as he limped off the pitch with a suspected hamstring injury.
We'll never know whether Ronaldo had been ushering Cavani off so they could crack on with the game, or whether he felt genuine compassion for his fellow footballer's wellbeing. But, either way, you have our respect Ronaldo.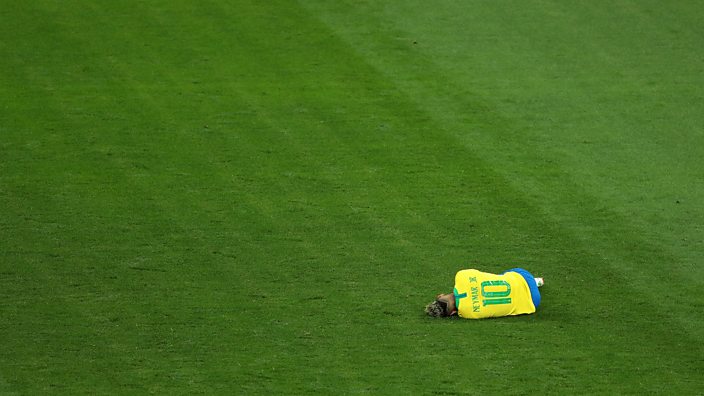 Having been tipped as one of the superstars to shine at the tournament, Neymar will probably instead be remembered for what some called "over diving" rather than his talents on the ball.
Referees and fans alike had just about enough of Neymar's actions towards the latter stages of the tournament, and this image of him lying alone on the field captures some of his isolation throughout Russia 2018.
Southgate celebrates reaching the semi-finals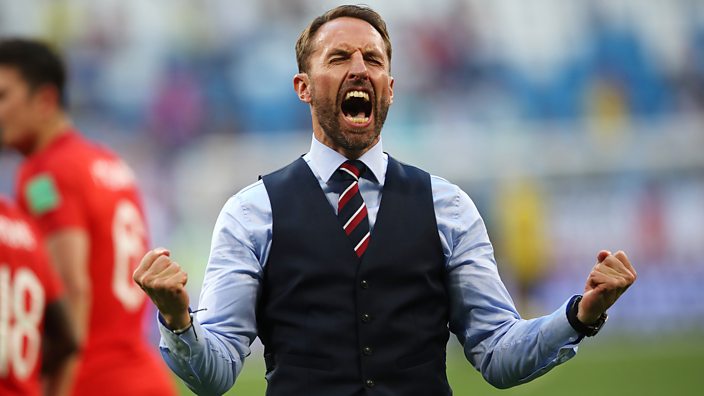 England manager Gareth Southgate played a huge role in getting his team to the semi-finals. Most people had been used to seeing Southgate as the calm and collected gentleman he's known to be, but it was a pleasure to see him let off a roar after England beat Sweden in the quarter-final.
This is what winning means.
Mandzukic offers a helping hand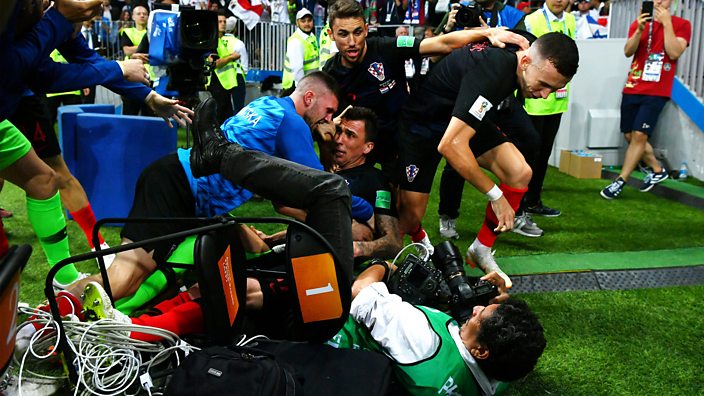 A goal in extra time of the semi-final against England all but secured Croatia's journey to the final, and the team celebrated by piling on to one another.
Goalscorer Mario Mandzukic led the celebrations as his team-mates jostled on top of each other, and somehow a photographer named Yuri Cortez found himself at the bottom of the mound.
Still, it was all smiles from Cortez, despite having the bulk of the Croatia team's on him, and he even snapped a few close-up photos from the ground before Mandzukic kindly offered him a hand up.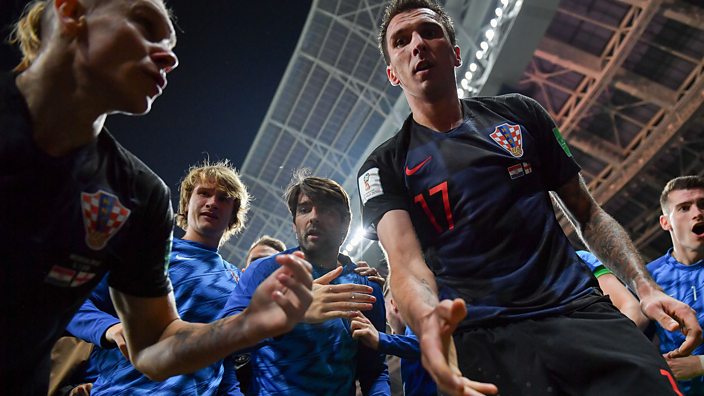 "It never crossed my mind that something like this would happen, and that I would end up buried under the mountain of players celebrating, Cortez said in an interview with Goal. "Especially that closeness with Mandzukic, Pivaric, Perisic, and Vida."
"Perisic asked, 'Are these your glasses?' And I said, 'Yes!' Then he put them over my head, gave me a hug, and shook hands asking, 'Are you OK?'"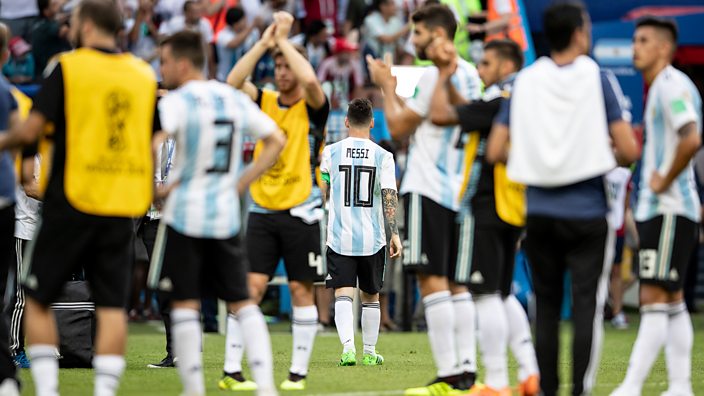 It was a tough tournament for Lionel Messi, who carried the weight of his nation's expectation during their short stint at the World Cup. Even he could only do so much without the right players around him.
He was seen here walking off the pitch after France knocked out Argentina, leaving behind his team-mates.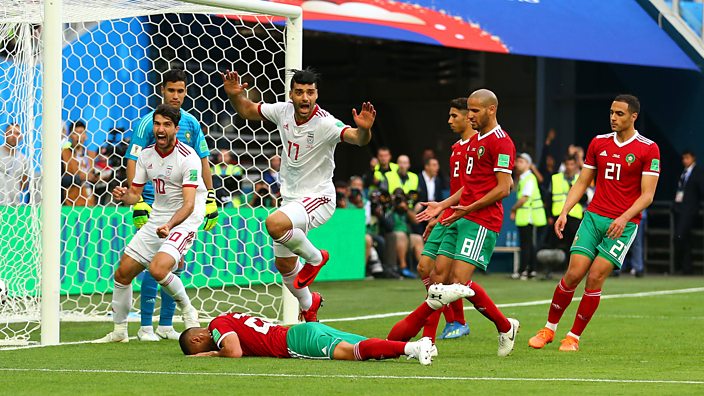 Spare a thought for Morocco's Aziz Bouhaddouz, who scored in his own net in the fifth minute of extra time during their opening game against Iran.
As soon as Bouhaddouz made contact with the ball, he fell face flat to the ground as Iran's players celebrated.
This one image just about sums up the joy and despair of the World Cup.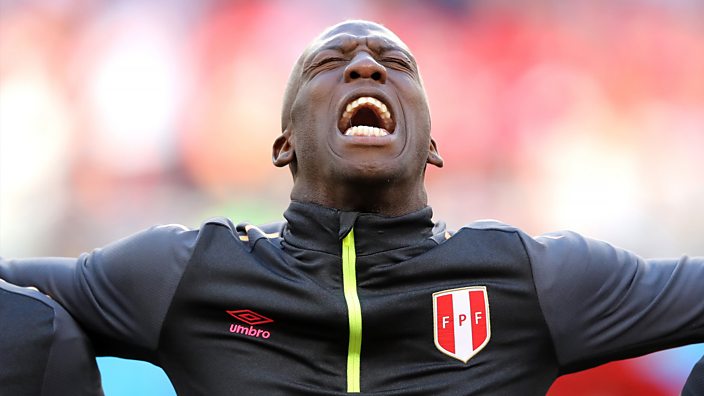 This was Peru's first World Cup since 1982, and defender Luis Advincula was loving every minute.
Despite going out at the group stages, the players made themselves heard, especially Advincula, who was captured singing the Peruvian national anthem in an ebullient burst of national pride.
Lloris v the 'shot from the heavens'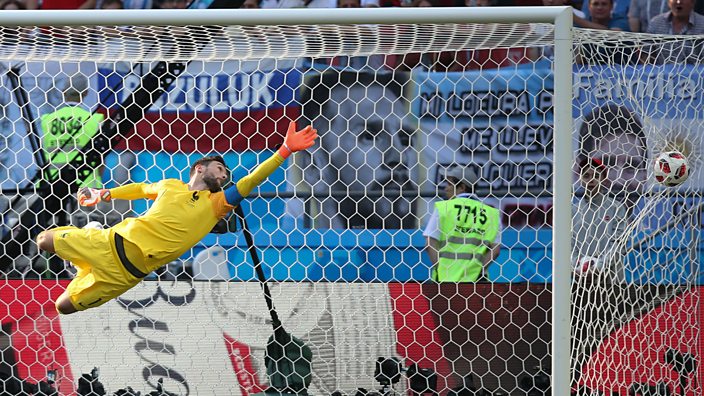 Despite his howler against Mandzukic in the final, Hugo Lloris had a pretty decent tournament, making saves left, right and centre.
There was, however, a strike from Angel di Maria in France's knockout-stage tie against Argentina that was truly unstoppable.
Commentator Guy Mowbray called it "a shot from the heavens". Lloris never stood a chance.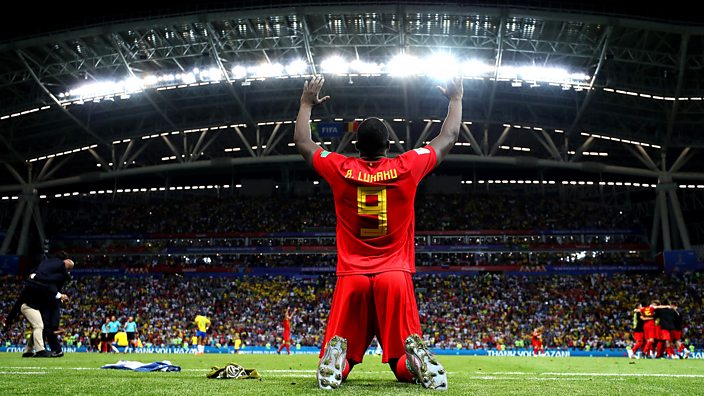 Here's Belgium's number nine falling to his knees and raising his hands skyward after his side secured a 2-1 win over Brazil in the quarter-finals.
The Belgians arguably played some of the best football at the tournament, and they clearly know how to compose a great photograph too.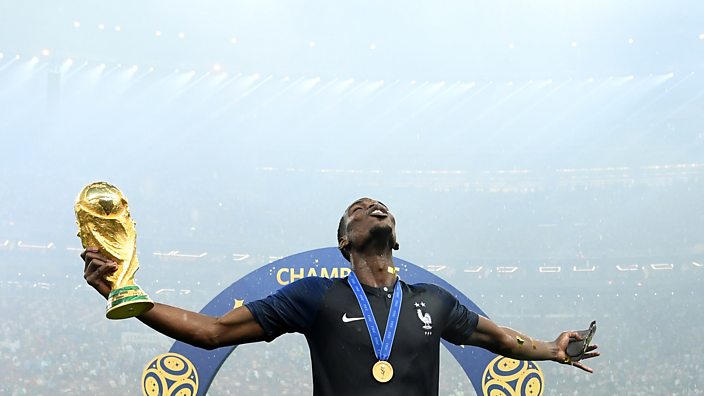 The misty washed-out background gives this photo a sense of surrealism as the rain lashes down on France's celebrations.
Pogba would later go on to dab with the trophy (was that ever in doubt?), but it's this photo that gets our nod on the list, seeing the 25-year-old basking in World Cup glory.