N/A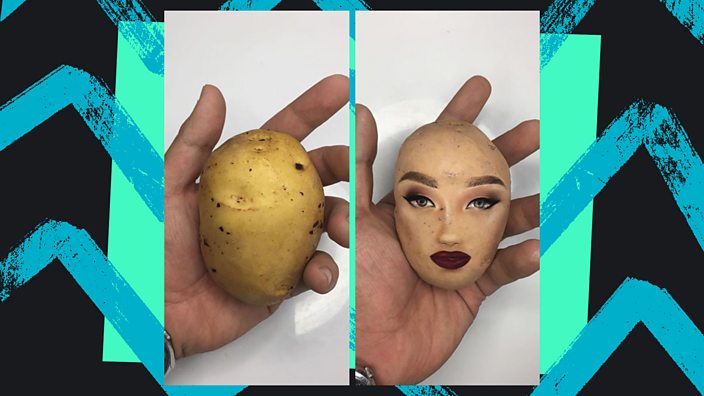 Instagram @erka_d
A new make-up challenge has gone viral. You're going to need a potato.
These carbs came to slay...
You say potato… we say put-art-on-it-doe. 
Think spuds don't make the most of their looks? Concerned they are regarded as tattie by name, tatty by nature? 
If so, you can now relax. The latest make-up challenge sweeping the internet sees potatoes receive a glamorous make-over. Yes, with actual cosmetics. 
Make-up artists from across the world are getting out their beauty blenders, ebbing out all the imperfections on potatoes and giving them a full make-up transformation.
The trend may sound bizarre but the surprising amount of effort that goes into these spud glow-ups is impressive.
Be warned: by the time you've scrolled through the #potatomakeup hashtag you may well have the thought, 'I wish I looked like that potato'.
You may even find yourself compulsively revisiting the feed of a starchy tuber with a flawless smoky eye and better eyebrows than Cara Delevingne, hoping to 'get the look'. 
So how did it come about? Well after a couple of vids popped up earlier in December, the trend grew in popularity, when Russian vlogger Elona Balasyan posted a potato make-up tutorial just before Christmas. The video starts with a lone, blemished potato on a pink and orange towel. Then after 15 seconds of intense brushwork, the spud has flawless skin, a bold plum lip and long, blonde hair.
It is undetermined whether the clip was a joke but it has inspired many make-up artists to take on the potato challenge and share their results on Instagram.
These potatoes do not get just a quick blob of foundation and a flick of mascara. They are prepped with oils and illuminators, their 'faces' baked with powder and their 'cheeks' contoured.
If a vegetable that has literally been dragged out of the mud can look this good, there's hope for us all.
But could any vegetable work the full coverage look? We asked professional make-up artist Caitlin Rubra and the 21-year-old from Hertfordshire explained that spuds are particularly suited to this beauty trend: "I think it is because potatoes are slightly more dry so it will absorb make-up better, also they're fairly smooth.
"Whereas a carrot is more even or an apple is too smooth and shiny it would slide off.
"Maybe a pear would work, but it's not the right shape I suppose."
Instagrammers, Danieli, Yelena and Maya who run a joint account called professional.arts, created this more natural look for their potato.
The three explained how they came up with the idea for their potato make-over.
"We saw one post about potato make-up," they told BBC Three. "We decided it's like creating your own friend which is a good idea for everyone.
"We are sort of joking, but at the same time it is just unusual art.
The group considered experimenting with other carbs, but – in a backlash against the movement – they have also called out the ethics of vegetable glow-ups.
"It's a nice idea but also it is a waste of food," they said.