N/A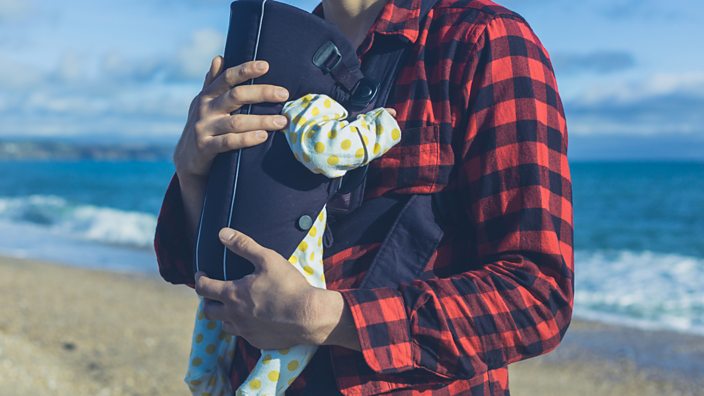 iStock
Thanks to Daniel Craig, #babywearingdad is now the hottest thing on the internet
Forget the six-pack, invest in a baby carrier instead
When Piers Morgan mocked Daniel Craig for carrying his newborn daughter in a baby carrier, it lit up the internet.
A row erupted, with some of the men of Twitter taking Morgan to task.
It ended with Morgan being pied live on air for his so-called daddy-shaming views. But the trend for men to bond with their babies by carrying them strapped to their chests is now pretty standard. And with baby-carriers named as reportedly the fifth most-gifted items on parents' registries in the US last year, it's showing no sign of abating. 
This controversy has revealed that, in certain corners of the internet, the babywearing dad is not only totally acceptable - he's actually a sex symbol. 
Certainly, to some Twitter users, babywearing dads are deemed sexy af: 
On Instagram, #babywearingdad returns nearly 50,000 posts, while #babywearingdaddy has 16,000 results. There are even Facebook groups and pages where dads who wear their babies "discuss slings and things", and show off their tandem carry (think one baby on the front and another strapped effortlessly to their back).
Insta accounts like daddydoinwork (26,000 followers) and dilfs_of_disneyland (384,000 followers) have sprung up that are packed with pictures of dads in full baby-carrying kit not only being caring and nurturing - but getting attention for looking hot.  
Sexy dads come in all shapes and sizes, but you can generally spot the Insta-type by his tattoos, hipster beard and slicked-back hair. Whether they're wearing a baby sling, a wrap or backpack carrier, these dads make sure their babywear blends seamlessly into their everyday style. But it's not just about looks - they're doing all this while being a general all-round superdad.
Like these dads, who more than fit the bill: 
For journalist Martin Daubney, who writes regularly on men's mental health and fatherhood, it isn't surprising that baby-wearing dads are getting this type of attention.
"There is something primeval about the attractiveness of men who nurture, which is not necessarily sexual," he says. "These men are proving that they are a carer, which is incredibly attractive to women. I was once called a DILF on Twitter and it absolutely made my month."
But, he says, there is no getting away from the fact that drooling over pics like this could be seen to be objectifying men. "If the situation was reversed, and women were being photographed by strangers, it would be universally portrayed as creepy and part of the culture of sexual harassment," he says.
"This is something women have had to endure for decades, so now when the boot is on the other foot, it's an equality of sorts… I don't think men have any right to complain about this."
In reality, most dads are happy to be in mismatched socks and Crocs, so long as their kids aren't crying
Like it or not, these photos are everywhere on social media. And, it seems, baby-wearing is not the only activity that can boost dads' sex appeal. Apparently, pushchairs can also make you sexy these days.
Robyn Wilder, parenting editor at online women's magazine The Pool, says she is a little perplexed as to why sexy dads have such a big online fanbase.
"Surely the fact that someone has a child - especially if that child is literally attached to their person - usually means that they're romantically unavailable?" she says. "Or at least extremely distracted. Because, at some point, someone's going to have to put the brakes on all the sexiness to change a nappy." 
She also points out the double standards which exist for mums and dads: "It's annoying that men are being sexualised for something I do, as a mother, every day without anyone setting up Instagram accounts applauding me," she says. "On the other hand, I wouldn't like the same focus turned on me, because who wants to be objectified at all, never mind while parenting?" 
And yet, aspiring to be a sexy dad can be taxing on fathers.
"It does create the impression that to be a 'DILF' you need to have a man-bun, neck tattoo, really prominent pecs, and form-fitting, stain-free clothing," Robyn says. "In reality, most dads - especially of very small children - are happy to be in mismatched socks and Crocs, so long as their kids aren't crying." 
While the pressure to reject the dad bod in favour of a life of being a sexy Insta-dad cannot be underestimated, the internet is decided - baby-wearing is hot. And with a ringing endorsement from James Bond himself, it looks like the babywearing sexy dad is here to stay.