N/A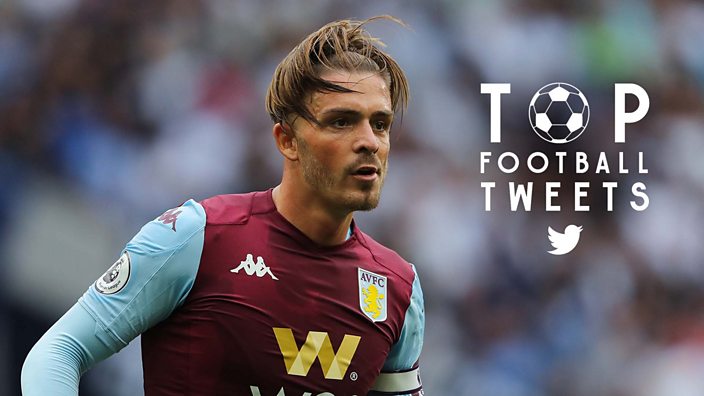 BBC
It's fair to say, Jack Grealish's Premier League record so far isn't the best
The Premier League is back - and it's brought a whole load of nonsense with it
The Premier League is finally back! After more than two long months without it, England's top tier joined the rest of the Football League and Scotland in returning to action and giving us something to complain about at the weekend once more.
There was no settling in period, with teams wasting no time in unleashing the usual chaos we've come to expect - now with more added VAR.
But as the start of a new season has us all looking to the future and what the new campaign could be, it's important not to forget the past...
1) A brief lesson in Irish history
A very interesting new niche popped up on Twitter over the weekend: Irish footballers using the opening weekend of the Premier League to dig up old grudges no one else was aware of.
On Friday night, Cillian Sheridan - a former Celtic striker who earned three caps for the Republic of Ireland back in 2010 - kicked back and enjoyed Liverpool's demolition of Norwich.
The following day, Aston Villa's Conor Hourihane celebrated his Premier League debut in style: by calling out a random Villa fan who criticised him five years ago.
2) You can't spell Villa without a few Ls
Jack Grealish may regret turning down the Republic of Ireland, who he represented at underage level, in order to pursue an international senior career with England.
As it stands, in the Premier League at least, he could desperately use some of that luck that the Irish are so famous for.
3) It's the hope that gets you
The Premier League is back, baby! And that can only mean one thing: you've got about two weeks before the novelty wears off and you're back to hating your own team again.
How far would you go to meet your hero? We doubt you're as committed as poor Louis, who was left a little worse for wear in his (successful) attempts to meet Mohamed Salah.
Liverpool were forced to bring on former West Ham shot stopper Adrian during their opening day win over Norwich after number one stopper Alisson went down injured, causing some to wonder if Jurgen Klopp's plan to only sign mononymous 'keepers was the right one.
North of the border, we're interested to see how Craig Levein's new "anyone have a mate who can fill in?" transfer policy works out. If it's good enough for your five-a-side team, why not Hearts?
Two games into the new season and Kilmarnock sit at the bottom of the Scottish Premiership as the only team without a point. There's still plenty of time left to turn things around but they're going to have to really believe in themselves.
It's in these trying times that you turn to your captain in the hopes that he can provide an inspirational message.
It's been a tough summer for Carl Jenkinson, what with having to leave the club he has supported his whole life and drop down to the Championship. But at least he's making new friends in Nottingham.
For a certain generation of football fans, there will always be a special place in their hearts for the likes of Man Red and Merseyside Blue. Those same fans of a certain football video game franchise will appreciate the below.