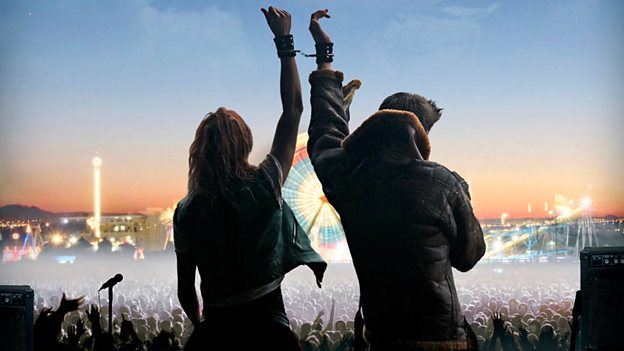 No connection, nothing compared to what I have with your girlfriend.
You Instead Synopsis
Adam and Morello have a big problem.
It's not that Adam is the heart-throb lead-singer in a famous electro-pop band OR that his girlfriend is a spoiled stroppy supermodel. His problem is Morello's problem.
Morello's problem isn't that she's lead singer in a struggling post-punk riot girl band OR that she's dating a banker.
No, her problem is that she has to perform the biggest gig of her life at a music festival while hand-cuffed to the kind of person she totally despises - Adam.
So begins an out-there odd-ball romantic comedy filled with lust, mud, betrayal, booze, portaloos and a hundred thousand people partying to the greatest music in the world - none of whom seems to have the key - not to the meaning of life - but to the handcuffs.
Credits
Starring:
Luke Treadaway, Natalia Tena, Mathew Baynton, Ruta Gedmintas, Gilly Gilchrist, Alastair Mackenzie, Gavin Mitchell
Screenplay:
Thomas Leveritt
Executive Producers:
Jamie Laurenson, Christine Langan, Robbie Allen, Carole Sheridan, Phil Hunt, Compton Ross, Geoff Ellis, Malte Grunert, David Mackenzie
Sales agent:
Distributor:
Credits summary:
BBC Films Presents in association with Head Gear Films/ Metrol Technology and Creative Scotland A Sigma Films Production A David Mackenzie Film
Release Dates
Released
16 September 2011
Out on DVD
23 December 2012
Related Links
Search BBC Films
Can't find what you need? Search here