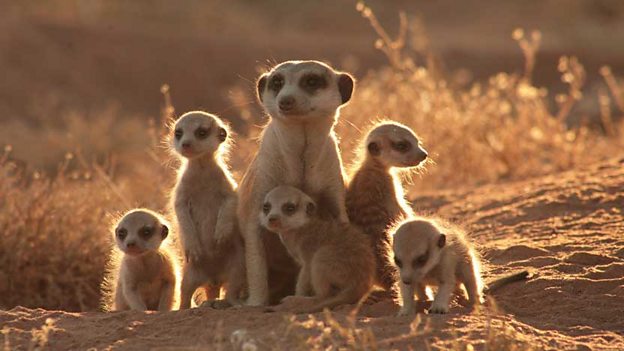 The Meerkats Synopsis
An inspiring look at how one family's connection to each other and their surroundings is a model of resilience and fortitude for us all. The story features the coming of age of a young meerkat pup, Kolo growing up in the Kalahari desert. Shot using ground-breaking techniques, this dramatised documentary is a one-of-a-kind presentation from The Weinstein Company and the BBC, the world's pre-eminent nature filmmakers.
Commentary written by Alexander McCall-Smith and told by Paul Newman.
Credits
Starring:
Paul Newman (narration)
Director:
James Honeyborne
Producers:
Trevor Ingman, Joe Oppenheimer
Screenplay:
Alexander McCall Smith
Executive Producers:
Neil Nightingale, David M. Thompson, Bob Weinstein, Harvey Weinstein
Sales agent:
Credits summary:
The Weinstein Company and BBC Films Present
Release Dates
Out on DVD
2 November 2009
Related Links
Search BBC Films
Can't find what you need? Search here