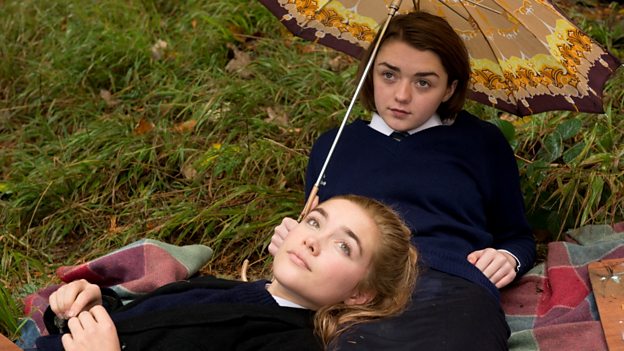 Nobody knows who I am anymore. What I really like. What I think about doing...
The Falling Synopsis
At the centre of the epidemic are intense and clever Lydia Lamont (Maisie Williams) and admired and rebellious Abbie Mortimer (Florence Pugh), both 16 years old. They carve their initials into a majestic English oak tree by a magical pond and vow never to lose touch. But Lydia already feels that Abbie is drifting away from her and soon her fears are confirmed. Struggling to find solace within the volatile, strange atmosphere of the school and her troubled home-life, Lydia feels driven to discover what is really behind everything that seems wrong. As the fainting escalates Lydia confronts the authority figures around her: her self-absorbed mother, Eileen (Maxine Peake), the unbending and indomitable deputy head Miss Mantel (Greta Scacchi), and the enigmatic and powerful headmistress Miss Alvaro (Monica Dolan). Eventually Lydia's actions force old secrets to rise to the surface and she finds herself faced with a truth that she never expected.
Maisie Williams won the Rising Star award at London's Evening Standard Film Awards 2016.
News and Views
BBC Films at the London premiere event of The Falling with cast and crew
Credits
Starring:
Maisie Williams, Maxine Peake, Monica Dolan, Greta Scacchi
Producers:
Cairo Cannon, Luc Roeg
Executive Producers:
Lizzie Francke, Christine Langan, Andrew Orr, Norman Merry, Peter Hampden, Rebecca Long, Ian Davies
Sales agent:
Distributor:
Credits summary:
BBC Films and BFI present in association with LipSync Productions A Cannon and Morley / Independent Production in association with Boudica Red A Film by Carol Morley
Release Dates
Broadcast on
4 February 2017
Search BBC Films
Can't find what you need? Search here