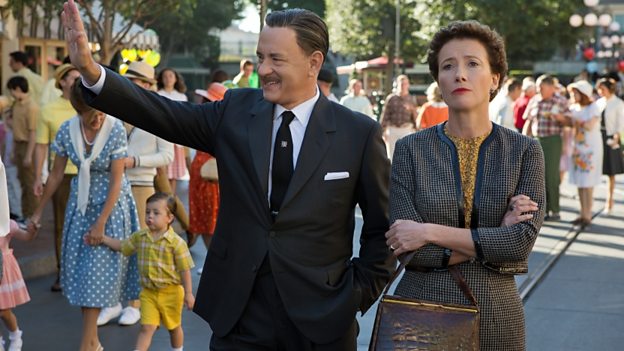 I know what he's going to do to her. She'll be cavorting and twinkling!
Saving Mr. Banks Synopsis
SAVING MR. BANKS is the heartwarming account of Walt Disney's twenty-year pursuit of the film rights to P.L. Travers' popular novel, Mary Poppins, and the testy partnership the upbeat filmmaker develops with the uptight author during the project's pre-production in 1961.
* * *
Won Best Actress Empire Award for Emma Thompson.
Academy Award nominated for Original Score for Thomas Newman.
BAFTA nominated for Outstanding British Film, Lead Actress for Emma Thompson, Original Music for Thomas Newman, and Costume Design for Daniel Orlandi.
News and Views
BBC Films chats to the cast of Saving Mr Banks
Credits
Starring:
Tom Hanks, Emma Thompson, Colin Farrell, Ruth Wilson, Jason Schwartzman, Paul Giamatti, BJ Novack
Director:
John Lee Hancock
Producers:
Alison Owen, Ian Collie, Philip Steuer
Screenplay:
Kelly Marcel, Sue Smith
Executive Producers:
Paul Trijbits , Troy Lum, Andrew Mason, Christine Langan
Sales agent:
Distributor:
Credits summary:
Disney present in association with BBC Films A Ruby Films / Essential Media and Entertainment Production in association with Hopscotch Features A John Lee Hancock Film
Related Links
Search BBC Films
Can't find what you need? Search here