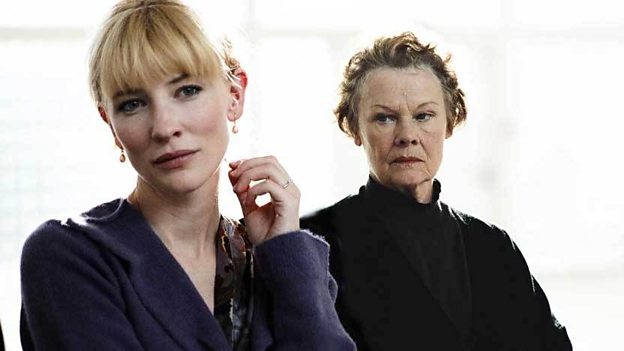 Her preference is for the younger man... surprisingly young.
Notes On A Scandal Synopsis
When Sheba Hart (Cate Blanchett) joins St. George's as the new art teacher, Barbara Covett (Judi Dench) senses a kindred spirit. But Barbara is not the only one drawn to her. Sheba begins an illicit affair and Barbara becomes the keeper of her secret.
News and Views
The director and writer of Notes On A Scandal discuss their Oscar®-nominated adaptation.

A clip from the psychological drama starring Cate Blanchett and Dame Judi Dench.
Credits
Starring:
Cate Blanchett, Judi Dench, Bill Nighy, Andrew Simpson
Producers:
Scott Rudin, Robert Fox
Screenplay:
Patrick Marber
Executive Producers:
Allon Reich, Andrew MacDonald
Sales agent:
Distributor:
Credits summary:
Fox Searchlight Pictures and DNA Present in association with the UK Film Council and BBC Films A Scott Rudin/Robert Fox Production
Related Links
Search BBC Films
Can't find what you need? Search here