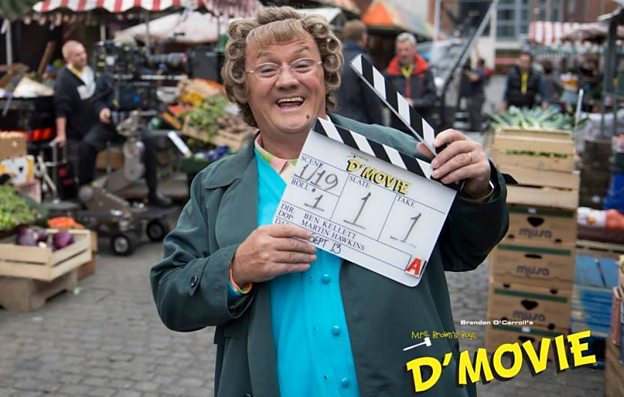 They won't take me without a fight!
Mrs Brown's Boys D'Movie Synopsis
When Dublin market-trader Agnes Brown finds her livelihood under threat from a ruthless developer, she and her family embark on a campaign to save her stall, aided as only the Browns will be by a motley troop of blind trainee ninjas, some of Grandad Brown's elderly pals, and a barrister with an embarrassing affliction.
In his feature debut, MRS. BROWN'S BOYS D'MOVIE is directed by Ben Kellett (director of the BAFTA, IFTA, and Scottish BAFTA award-winning BBC TV series Mrs. Brown's Boys) and produced by Stephen McCrum.
News and Views
BBC Films talks to Brendon O'Carroll and the stars of Mrs. Brown's Boys D'Movie
Credits
Starring:
Brendan O'Carroll
Screenplay:
Brendan O'Carroll
Executive Producers:
Martin Delany, Conor Harrington, Jennifer Gibney, Rory Cowan, Fiona O'Carroll, Paddy Houlihan, Danny O'Carroll, Amanda Woods, Brendan O'Carroll, Christine Langan, Mark Freeland
Sales agent:
Distributor:
Credits summary:
Universal Pictures and BBC Films present A BocFlix Film
Release Dates
Out on DVD
17 October 2014
Broadcast on
31 December 2015
Search BBC Films
Can't find what you need? Search here