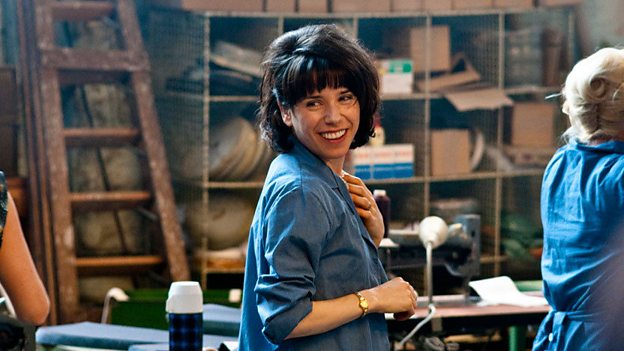 Cope? We're women. Now don't ask such stupid questions.
Made In Dagenham Synopsis
1968: Rita lives in Dagenham and, like many local women, she works at the Ford plant stitching together seat covers. It's intricate work carried out in sweltering conditions. So why, she wonders, are the workers paid the same as unskilled labourers? Is it because the work is unskilled? Or is it in fact because they are women?
MADE IN DAGENHAM shows how, with a little help from political firebrand Barbara Castle, the Dagenham women managed to overturn an age old hypocrisy.
News and Views
Producers Stephen Woolley and Elizabeth Karlsen on the drama about the fight for equal pay.
Credits
Starring:
Sally Hawkins, Bob Hoskins, Miranda Richardson, Geraldine James, Rosamund Pike, Andrea Riseborough, Daniel Mays, Kenneth Cranham, Jaime Winstone
Producers:
Elizabeth Karlsen, Stephen Woolley
Executive Producers:
Christine Langan, Tim Haslam, Norman Merry, Paul White
Sales agent:
Distributor:
Credits summary:
BBC Films and the UK Film Council present in association with Audley Films A Nigel Cole Film
Related Links
Search BBC Films
Can't find what you need? Search here