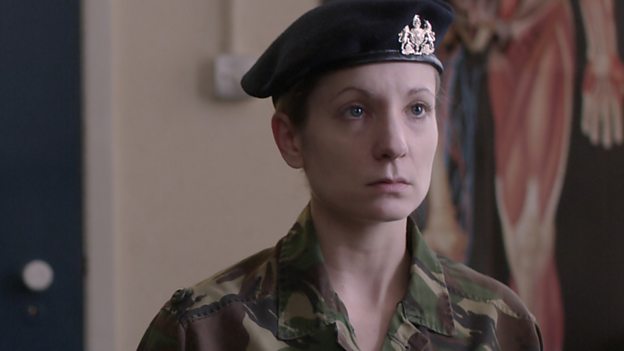 I feel different. I'm seeing things different.
In Our Name Synopsis
Suzy's a British soldier; born and bred, but fitting back into civilian life after fighting in Iraq isn't easy. Haunted by the responsibility she feels for the death of an Iraqi child, she becomes obsessed with the safety of her own daughter, feeling the need to protect her against a threat that doesn't seem to exist. As Suzy's paranoia builds, her behaviour becomes more and more erratic, until finally, she puts her own child in serious danger.
News and Views
Michelle Eastwood and Brian Welsh discuss their hard-hitting movie about returning Iraq veterans.
Credits
Starring:
Joanne Froggatt, Mel Raido, Andrew Knott
Producers:
Michelle Eastwood
Executive Producers:
Philip Knatchbull, Nik Powell, Daniel Chamier
Sales agent:
Distributor:
Credits summary:
Curzon Artificial Eye and NFTS in association with BBC Films and Front Page Films present an Escape Films & A10 Films Production
Related Links
Search BBC Films
Can't find what you need? Search here