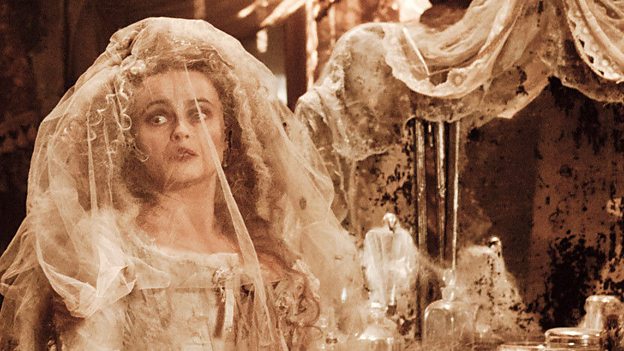 I sometimes have sick fancies and I have a sick fancy that I want to see some play. Play. Play!
Great Expectations Synopsis
Young orphan Pip is given a chance to rise from his humble beginnings thanks to a mysterious benefactor. Moving through London's class ridden world as a gentleman, Pip uses his new found position to pursue the beautiful Estella; a spoilt heiress he's loved since childhood. Yet the shocking truth behind his great fortune will have devastating consequences for everything he holds dear.
This adaptation of Charles Dickens's classic and finest novel is directed by Mike Newell, produced by Elizabeth Karlsen and Stephen Woolley, and written by acclaimed screenwriter and novelist David Nicholls.
* * *
BAFTA nominated for Beatrix Aruna Pasztor's Costume Design.
News and Views
Helena Bonham Carter, Ralph Fiennes, Robbie Coltraine and more talk about Great Expectations
Credits
Starring:
Ralph Fiennes, Helena Bonham Carter, Jeremy Irvine, Robbie Coltrane, Holliday Grainger, Ewen Bremner, Jason Flemyng, Sally Hawkins, Tamzin Outhwaite, David Walliams
Producers:
Elizabeth Karlsen, Stephen Woolley, Emanuel Michael, David Faigenblum
Screenplay:
David Nicholls
Executive Producers:
Christine Langan, Zygi Kamasa, Normal Merry, , Mike Newell
Sales agent:
Distributor:
Credits summary:
BFI, BBC Films and Unison Films present in association with HanWay Films and Lip Sync Productions A Stephen Woolley Elizabeth Karlsen Number 9 Films Production in association with Compton Investments A film by Mike Newell
Release Dates
Broadcast on
25 December 2016
Related Links
Search BBC Films
Can't find what you need? Search here