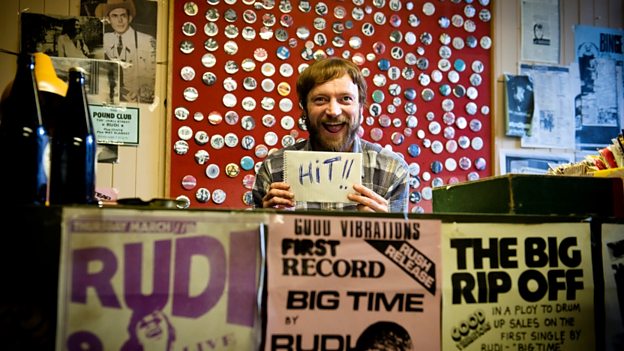 Everybody has to hear them. Everybody.
Good Vibrations Synopsis
Terri Hooley is a radical, rebel and music-lover in 1970s Belfast when the bloody conflict known as the Troubles shuts down his city. As all his friends take sides and take up arms, Terri opens a record shop on the most bombed half-mile in Europe and calls it Good Vibrations. Through it he discovers a compelling voice of resistance in the city's nascent underground punk scenes. Galvanising the young musicians into action, he becomes the unlikely leader of a motley band of kids and punks who join him in his mission to create a new community, an alternative Ulster, to bring his city back to life.
BAFTA nominated for Outstanding Debut by a British Writer, Director or Producer for Colin Carberry and Glenn Patterson.
Winner of Galway Film Fleadh Audience Award.
Nominated for three Irish Film and Television Awards including Best Film, Best Actor for Richard Dormer, and Costume for Maggie Donnelly.
News and Views
BBC Films talks to star Richard Dormer, and directors Lisa Barros D'sa and Glenn Leyburn
Credits
Starring:
Richard Dormer, Jodi Whittaker, Michael Colgan, Karl Johnson, Liam Cunningham, Adrian Dunbar, Dylan Moran
Director:
Lisa Barros D'Sa, Glenn Leyburn
Producers:
Chris Martin, Andrew Eaton, David Holmes
Screenplay:
Colin Carberry, Glenn Patterson
Executive Producers:
Robert Walpole, Rebecca O'Flanagan, Bruno Charlesworth, Joe Oppenheimer, Nigel Thomas
Sales agent:
Distributor:
Credits summary:
BBC Films presents with the participation of Bord Scannan na hEireann/IFB and Northern Ireland Screen in association with Immaculate Conception Films A Canderblinks Film & Music, Revolution Films and Treasure Entertainment Production
Search BBC Films
Can't find what you need? Search here