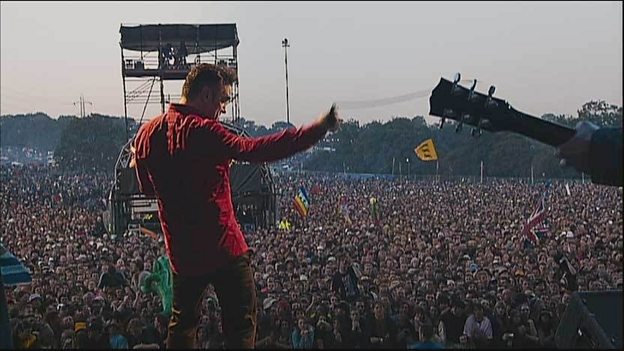 Glastonbury is built on a legend.
Glastonbury Synopsis
In 1970 Michael Eavis opened his 150-acre farm to 1,500 people each paying £1 to watch a handful of pop and folk stars perform over the summer-solstice weekend. With that the Glastonbury Festival was born. It is now the longest running and most popular music and arts festival in history. Hundreds of thousands of people have enjoyed the Glastonbury festival and millions more around the world have watched it on television or listened to broadcasts on the radio. Now everyone can experience the Glastonbury vibe and some of the festival's 35-year history with GLASTONBURY the documentary.
Musicians featured include The Velvet Underground, Nick Cave and the Bad Seeds, Primal Scream, Alabama 3, Billy Bragg, Cypress Hill, The Scissor Sisters, Radiohead, Babyshambles, The Levellers, David Gray, Bjork, Coldplay, Chemical Brothers, Stereo MC's, Blur, Joe Strummer & the Mescaleros, English National Opera's 'Die Valkyrie', Ray Davies, Pulp, Faithless, The Bravery, Morrissey, Prodigy, Toots an the Maytals, and David Bowie.
The Glastonbury film project began in 2002 when the future of the festival was in question. Michael Eavis wanted a record of the Festival's history in case it turned out to be the final year. With less than a month to go before the 2002 festival there was no time to lose. Long-time festival worker Robert Richards took on the role as producer and he quickly enlisted the help of Somerset-based director Julien Temple (The Great Rock'n'Roll Swindle, Absolute Beginners, The Filth And The Fury). Within weeks 12 film crews were ready to record events.
Fortunately the Glastonbury Festival overcame problems and lived on, and Julien went back to film in 2003, 2004 and 2005. He also spent three years collecting footage from every single year of the Festival, ranging from recut clips from the film Nicolas Roeg made in 1971, to amateur home videos collected from the attendees themselves. Over 900 hours of footage was submitted. Interweaving images of dance acts, sceptical locals, and stirring performances by music legends - not to mention the unbridled energy of each successive generation of music fans - Glastonbury skilfully chronicles the evolution of the longest-running music festival in the world.
Credits
Starring:
Featuring Michael Eavis
Producers:
Robert Richards
Executive Producers:
Jeremy Thomas, Tracey Scoffield, Jane Hawley, Dave Henderson
Sales agent:
Distributor:
Credits summary:
BBC Films in association with Hanway Films Limited and Emap Performance A Newhouse Nitrate Production
Release Dates
Out on DVD
12 October 2006
Related Links
Search BBC Films
Can't find what you need? Search here