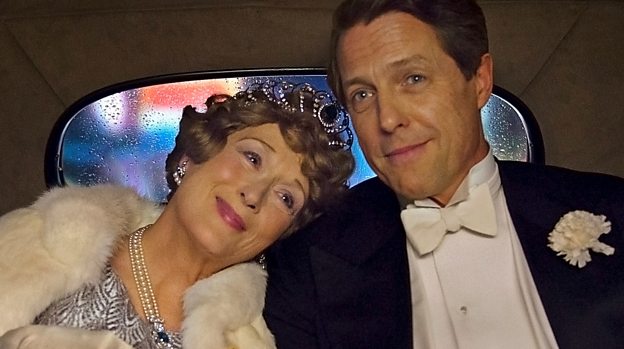 She can be a little... flat.
Florence Foster Jenkins Synopsis
The true story of Florence Foster Jenkins (Meryl Streep), the legendary New York heiress and socialite who obsessively pursued her dream of becoming a great opera singer. The voice she heard in her head was beautiful, but to everyone else it was hilariously awful. Her "husband" and manager, St Clair Bayfield (Hugh Grant) an aristocratic English actor, was determined to protect his beloved Florence from the truth. But when Florence decided to give a public concert at Carnegie Hall in 1944, St Clair knew he faced his greatest challenge.
***
Hugh Grant nominated for European Actor at the European Film Awards 2016.
***
Nominated for 4 Golden Globes 2017; Best Motion Picture - Musical or Comedy, Best Actor - Musical or Comedy Hugh Grant, Best Actress - Musical or Comedy Meryl Streep, Best Supporting Actor - Musical or Comedy Simon Helberg.
***
Winner Make Up & Hair J. Roy Helland & Daniel Phillips at the British Academy Film Awards 2017 (BAFTA). Also nominated for Leading Actress Meryl Streep, Supporting Actor Hugh Grant, and Costume Design Consolata Boyle.
***
Nominated for 2 Academy Awards (Oscars); Actress in a Leading Role Meryl Streep, Costume Design Consolata Boyle.
Credits
Starring:
Meryl Streep, Hugh Grant
Producers:
Michael Kuhn, Tracey Seaward
Screenplay:
Nicholas Martin
Executive Producers:
Cameron McCracken, Christine Langan, Malcolm Ritchie
Sales agent:
Distributor:
Credits summary:
Pathé and BBC Films present, with the participation of Canal+ and Ciné+, A Qwerty Films Production A Stephen Frears Film
Release Dates
Out on DVD
5 September 2015
Broadcast on
5 August 2018
Search BBC Films
Can't find what you need? Search here