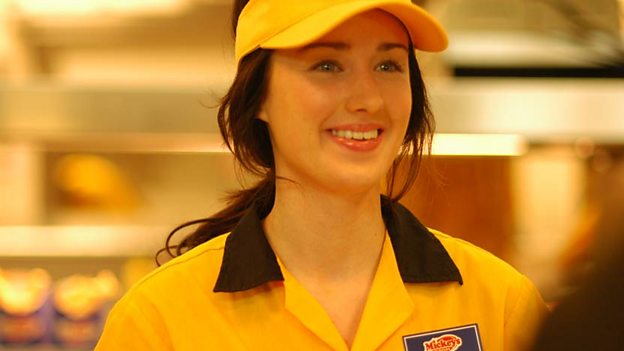 Wow! Tastes like it's right off the grill.
Fast Food Nation Synopsis
'The Big One' is the latest burger from fast food chain Mickey's and it's turning out to be their most successful product yet. However, there's something strange in the meat...
So company man Don is sent down to Cody, Colorado, to investigate the local meat packing plant where all The Big Ones for all of America are made.
Meanwhile, Amber, a local teenage girl who works behind the counter of the local Mickey's outlet, is scared to death because there have been a series of mysterious robberies at the other fast food restaurants in the area.
But when she discovers the whole truth about fast food chains like Mickey's, Amber and her friends come up with their own radical plan to stop America becoming a Fast Food Nation.
News and Views
The producer of Fast Food Nation on his insatiable appetite for working with interesting filmmakers from around the world.
Credits
Starring:
Catalina Sandino Moreno, Greg Kinnear, Ethan Hawke, Kris Kristofferson, Patricia Arquette, Avril Lavigne
Director:
Richard Linklater
Producers:
Jeremy Thomas, Malcolm McLaren
Screenplay:
Eric Schlosser, Richard Linklater
Executive Producers:
Jeff Skoll, Ricky Strauss, Chris Salvaterra, Ed Saxon, Peter Watson, Eric Schlosser, David M. Thompson
Sales agent:
Distributor:
Credits summary:
Jeremy Thomas Presents in association with Hanway Films, Participant Productions and BBC A Recorded Picture Company Production
Related Links
Search BBC Films
Can't find what you need? Search here