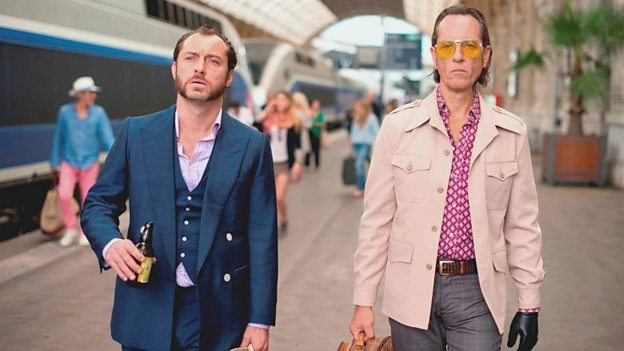 I'm a peasant at heart, a petty serf - with nice hair, and a strong liver...
Dom Hemingway Synopsis
Dom Hemingway is a larger-than-life safecracker with a loose fuse - funny, profane, and dangerous. Back on the streets of London after twelve years in prison, it's time to collect what he's owed for keeping his mouth shut.
Travelling with his devoted best friend (Grant), Dom visits his crime boss (Bichir) in the south of France to claim his reward. But Dom's drink and drug-fuelled ego decides that what he's lost can't be replaced.
One car accident and a femme fatale later (Ghenea), Dom realizes that his priority must be to reconnect with his long-lost daughter (Clarke). 
But Dom does what Dom does best. He screws things up for everyone…
News and Views
BBC Films interviews Jude Law & Richard E. Grant for Dom Hemingway
Credits
Starring:
Jude Law, Richard E. Grant, Demian Bichir, Emilia Clarke, Kerry Condon, Jumayn Hunter
Screenplay:
Richard Shepard
Executive Producers:
Steve Norris, Ivan Dunleavy, Peter Watson, Zygi Kamasa, Christine Langan, Steve Christian
Sales agent:
Distributor:
Credits summary:
BBC Films and Isle of Man Film present in association with HanWay Films, Pinewood Films A Recorded Picture Company Production
Search BBC Films
Can't find what you need? Search here