Alan Partridge: Alpha Papa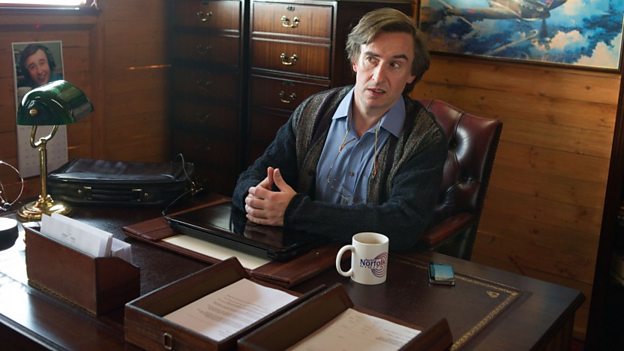 Tonight we'll be asking have you ever met a genuinely clever bus driver?
Alan Partridge: Alpha Papa Synopsis
Alan Partridge has had many ups and downs in life. National television broadcaster. Responsible for killing a guest on live TV. Local radio broadcaster. Nervous breakdown in Dundee. A self-published book, 'Bouncing Back', which was subsequently remaindered and pulped. ALAN PARTRIDGE: ALPHA PAPA portrays the events of the greatest low-to-high ebb spectrum in his life to date, namely how he tries to salvage his public career while negotiating a potentially violent turn of events at North Norfolk Digital Radio.
Winner Best Comedy at the Empire Awards, and nominated for Best British Film.
Nominated for Best Feature Film Soundtrack at the Music+Sound Awards.
News and Views
BBC Films interviews Steve Coogan, star of Alan Partridge: Alpha Papa
Credits
Starring:
Steve Coogan, Colm Meaney, Felicity Montagu, Anna Maxwell Martin, Darren Boyd, Monica Dolan, Tim Key, Sean Pertwee
Producers:
Kevin Loader, Henry Normal
Screenplay:
Neil Gibbons, Rob Gibbons, Armando Iannucci, Peter Baynham
Executive Producers:
Jenny Borgars, Danny Perkins, Christine Langan, Joe Oppenheimer, Steve Coogan, Armando Iannucci, Peter Baynham, Neil Gibbons, Rob Gibbons
Sales agent:
Distributor:
Credits summary:
BBC Films and BFI present A Baby Cow Production
Release Dates
Out on DVD
2 December 2013
Broadcast on
22 December 2016
Search BBC Films
Can't find what you need? Search here