Absolutely Fabulous: The Movie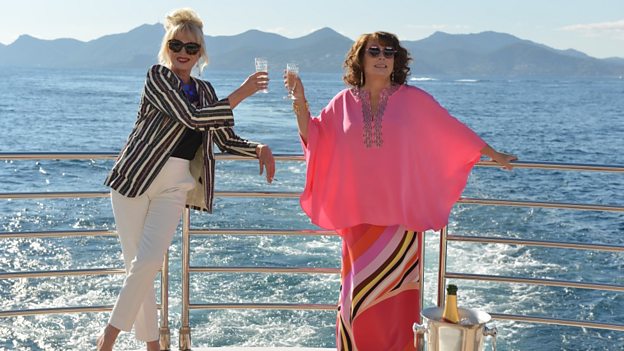 I think I am now officially fatter sideways than I am front on.
Absolutely Fabulous: The Movie Synopsis
Edina and Patsy are still oozing glitz and glamour, living the high life they are accustomed to; shopping, drinking and clubbing their way around London's trendiest hotspots. Blamed for a major incident at an uber fashionable launch party' they become entangled in a media storm and are relentlessly pursued by the paparazzi. Fleeing penniless to the glamorous playground of the super-rich, the French Riviera, they hatch a plan to make permanent their escape and live the high life forever more!
In true Ab Fab style, the cast will be joined by a host of A-list stars from the acting, music and fashion worlds.
News and Views
All the glitz and glamour of the Absolutely Fabulous premiere with Jennifer Saunders, Joanna Lumley, and a host of celebrities
Credits
Starring:
Jennifer Saunders, Joanna Lumley, Julia Sawalha, Jane Horrocks, June Whitfield
Producers:
Damian Jones, Jon Plowman
Screenplay:
Jennifer Saunders
Executive Producers:
Maureen Vincent, Jennifer Saunders, Dawn French, Christine Langan, Nichola Martin, Steve Milne, Christian Eisenbeiss
Distributor:
Credits summary:
Fox Searchlight Pictures presents in association with BBC Films A DJ Films / Saunders & French Production
Release Dates
Out on DVD
5 December 2016
Search BBC Films
Can't find what you need? Search here