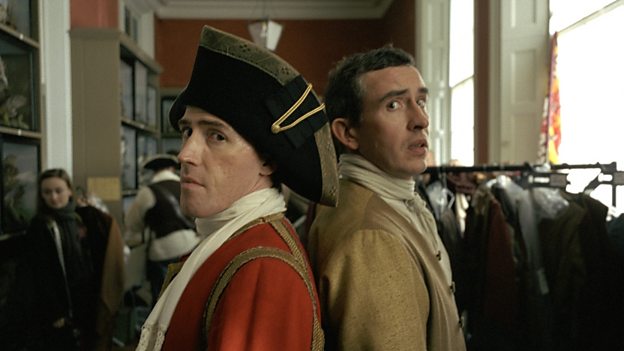 I'm a grown man, talking to the camera, in a womb.
A Cock And Bull Story Synopsis
One of English literature's most anarchic classics - The Life And Opinions Of Tristram Shandy - adapted by one of cinema's most daring film-makers, A COCK AND BULL STORY is a comedy from acclaimed director, Michael Winterbottom.
Bringing together the cream of British comedy talent, this is a film which perfectly captures the spirit of the novel - a celebration of the wonderful, unfathomable chaos of life itself.
A COCK AND BULL STORY is an energetic, laugh out loud adaptation of a book which is unadaptable, and this is wrapped round by an affectionate and equally hilarious account of what it's like trying to make a film - especially when the two lead actors are constantly vying with each other for attention.
Credits
Starring:
Steve Coogan, Rob Brydon, Keeley Hawes, Shirley Henderson, Dylan Moran, David Walliams, Jeremy Northam, Benedict Wong, Naomie Harris, Kelly Macdonald, Elizabeth Berrington, Mark Williams, Kieran O'Brien, Roger Allam, James Fleet, Ian Hart, Ronni Ancona, Greg Wise, Stephen Fry, Gillian Anderson
Director:
Michael Winterbottom
Screenplay:
Frank Cottrell Boyce
Executive Producers:
Kate Ogborn, Julia Blackman, Jeff Abberley, David M. Thompson, Tracey Scoffield, Henry Normal
Sales agent:
Distributor:
Credits summary:
BBC Films presents in association with EM Media and Revolution Films a Revolution Films Production in association with Baby Cow Productions produced with Scion Films A Michael Winterbottom Film
Release Dates
Out on DVD
10 September 2007
Related Links
Search BBC Films
Can't find what you need? Search here