As You Like It
Released 21 September 2007

Come, woo me! For now I am in a holiday humour and like enough to consent.
Kenneth Branagh's imaginative adaptation of Shakespeare's play celebrates the enduring power of love in all its many disguises.
Witty and playful, the story is a magical romantic adventure in which Rosalind and Orlando's famous courtship is played out against a backdrop of political rivalry, banishment and exile in the Forest of Arden.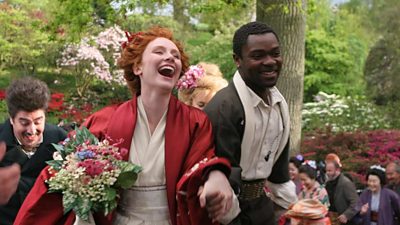 Starring:
Bryce Dallas Howard, Romola Garai, Kevin Kline, Adrian Lester, David Oyelowo, Brian Blessed
Director:
Kenneth Branagh
Producers:
Kenneth Branagh, Judy Hofflund, Simon Moseley
Screenplay:
Kenneth Branagh
Executive Producers:
Paul Trijbits, David M. Thompson, Peter Carlton, Bill Alan, Tristan Whalley
Sales agent:
Distributor:
Credits summary:
HBO Films presents in association with BBC Films A Shakespeare Film Company Production
Certificate:
12A
Running time:
126 mins
Released:
21 September 2007
Out on DVD:
25 February 2008