Thinking and filming in another dimension
Have you ever wondered how you can get drone style footage without having to use an actual drone? Dougal Shaw, digital reporter in the BBC Business unit, guides us through how two innovative and moderately small devices have transformed the way he works and the videos that he makes. He has added the two new kits in his rucksack as a go-to for filming content quickly and in dynamic situations.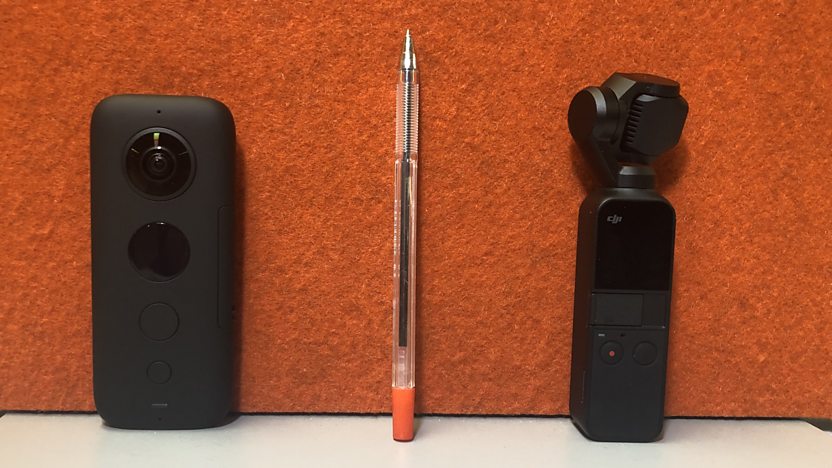 It was two bits of kit that I had just started using that saved the day.
I was doing a story about a fridge recycling plant for BBC Business. After an intense few hours filming on the factory floor, I realised the phone which I use as my main camera (an iPhone 8 Plus) was starting to run low on battery, which is one of the perils of mojo filming.
When it gets under 10%, I usually switch to my back-up iPhone 6. But I'd left it at the last interview location a few minutes away and I only had five minutes before I had to leave to catch a train.
I decided just to use the DJI pocket gimbal in my back pocket, which I also use - I'd never thought of it as a replacement for the main camera though, just a way to pick up a few 'glory shots'. I quickly collected the key shots I needed for the story in the few minutes I had left.
On the train back to base I looked through the rushes on my laptop with a growing sense of relief; I had all the shots I needed. Not only had the pocket gimbal done a good job, but also I realised something else.
The Insta360 One X camera, which I had also been using, though I had only recorded with it for under a minute, had given me an abundance of visual material to play with.
These 360 cameras are great for showing off large spaces, like factories. I had held the 360 camera high on a selfie stick in the middle of the factory. It captured everything around it in a kind of video sphere, even eliminating the selfie stick itself that holds it (once in the edit), with the help of some clever software.
As you can see in the image above, the 360 camera is good for showing off large spaces.
People watching your video often think you must have had a drone floating above your head. It turns out to be a very efficient way of gathering footage, as you can pick out the perspective you want to focus on in the edit. So in an interesting place like a factory, one static 'shot' might give you six angles to play with (left, right, above... etc.) Therefore one minute filming equates to six minutes of rushes.
The film turned out fine. Can old fridges be recycled to make new ones?
"I've been filming on my phone to make my online and TV reports at BBC News for nearly five years now." – Dougal Shaw
A while ago I started something which I called a "mojo diet" (you can read about it here), there turned out to be two main benefits. It made life easier for me, as I carried less kit, making me more nimble. Secondly, it made filming feel more authentic to me, and I could tell my contributors were more relaxed.
But in the past six months - against my general policy of jettisoning kit (most recently my tripod) - I've actually added two things to my rucksack, namely the 360 camera and the pocket gimbal. The two kinds I've mentioned are just two of the brands available on the market.
To start using both I had to overcome prejudices.
The idea of a gimbal is that it gives you electronic stabilisation, offering a smooth shot. The early ones I used were like a joystick that held your phone and promised to keep it ultra steady.
The dream is that you will get footage like you see in movies when they use the Steadicam. One of the first examples of this was the famous scene in The Shining in the 1970s, when the boy goes round the hotel corridors on his tricycle.
When director Stanley Kubrick first heard about the Steadicam he described it a "magic carpet" for cameras.
Most gimbals never delivered on that promise for me. They would often take on a life of their own in your hand. The footage could be a bit jerky and I had problems getting it to talk to my phone via Bluetooth.
Also, when your phone was attached to the gimbal, it was hard to access the lightning port, which I need to plug my mic into.
"When you are filming on your own you need things to be very simple and reliable - so I gave up on the gimbal." – Dougal Shaw
But at a meet up of the Mojo Festival group (dedicated to mobile filming) an Italian colleague showed me a new kind of gimbal.
What interested me about it was that it was very small and discrete, resembling an umbrella handle I thought. It filmed in 4k and the tiny camera was integrated into the gimbal, so I didn't need to connect it to my phone. I could see it was easy to use and wouldn't take up precious space in my bag.
It quickly earned a place in my kit. I'd use it for tracking shots in boring locations (the camera can hone in on someone's face then follow them as they move, and panning shots are very smooth).
I also quickly found it's good in dynamic situations, when someone is quickly moving through a building. You can whip it out and collect some useful actuality shots, trusting the auto settings.
The viewfinder is small, but you are filming in 4k, so you can always crop things in the edit. And if you really want a bigger view, you can attach your phone - though for me, that reintroduces the risk of faff and technical problems.
I shot one whole feature just using the pocket gimbal.
360 filming turned my world around
I'd never done any 360 filming before. I'd been put off by what I heard from colleagues more experienced than me.
The edits were notoriously tricky. But this was a few years back, when people were filming in 360 to make videos that could be watched in 360 - you may have seen these on YouTube and Facebook. The viewer gets an immersive, interactive experience of the video; they choose which bits to see.
By contrast, the 360 camera I use captures in 360, but you are just using the footage to make a normal video with none of those interactive elements. The benefit is all to you, the film-maker, who calls the shots.
As I found out at the fridge factory, you suddenly have a wealth of shots to choose from in your 360 rushes; a world of dynamic pans, tilts and rotations. Once the 360 made its (admittedly slow) ingest journey into my edit timeline, it could be edited with key frames which get some dazzling results.
"On shoots it almost forced you to think in another dimension. What amazing trick could I pull off in the edit with the right kind of positioning of the 360 camera here then?" – Dougal Shaw
On an assignment at another factory, doing a story about invisible barcodes, I used it to full effect, Could 'invisible barcodes' revolutionise recycling?.
To set up an interview with a contributor, I filmed myself walking up to meet him next to a vast machine. As I approached him, I held the camera above my head on the selfie stick - this gave an aerial approach shot, as if filmed by a drone following me along.
In fact I've always wanted to add a drone to my kit bag, but for lots of practical reasons I haven't. When you are using drones for professional filming there are lots of rules that mean you can't film near people and you need a licence.
The 360 camera on a tall stick is a simpler proposition and can give you similar shots - both outdoors and indoors.
However, unlike a drone, one issue you have to look out for is how you clutch the selfie stick. The software will get rid of the stick in the edit, but it won't disguise the shape of your hand.
When I walked carrying the stick normally, it then looked in the video like I was walking around trying to fist-pump people - the audience just see the empty fist clutching thin air.
There are techniques you can learn to avoid this, like holding the stick in the crook of your elbow and armpit, or attaching it to a backpack.
In the image above, you can see that the software removes the selfie stick, revealing the hand shape.
In the factory I learned that you could use the small 360 camera like a surgeon's probe. You could stick it into hard-to-access parts of the machinery, to give the audience a peek of what's going on inside the bowels of the machine (subject to making sure that this is safe of course).
Lastly, I tried doubling up two selfie sticks, to give a really high aerial shot that would show off how big the factory was. To avoid showing myself holding the stick as the camera looked down, I held the sticks on a small tripod.
If you look carefully in this stil, you can see the triangular black legs of the tripod - but if you weren't looking for them, I doubt you'd notice.
In this image, can you spot the tripod that held the selfie stick?
The 360 camera was also useful for shooting interviews. Usually when I film an interview I record the contributor's answers, then if I want to include my question, I have to re-shoot it afterwards - always a slightly embarrassing, staged moment.
But with the 360 camera I was able to place it on a tripod between a guest and myself and record all the questions and answers in one take. In the edit I could cut between the guest and myself.
The sound recorded on the 360 camera is not good enough, so I recorded audio separately on my phone with a microphone plugged in, then synced the rushes together in the edit.
The framing you get from the wide-angled 360 camera isn't ideal, but I don't mind it for my brand of rough-and-ready mojo stories.
The image above shows that I am hiding myself to give a 'clean' 360 aerial shot.
Any shoot-edit will tell you it's hard working on your own. You will only use kit if it's practical and useful on a regular basis. Despite my mojo diet, both these tools whetted my creative appetite enough to make it into my kit bag
You can get more #mojo tips and see more of his mojo work by following Dougal on Twitter: @dougalshawbbc