About Digital Cities Cardiff
Hold these dates for your calendar. Digital Cities Cardiff is back from 1 to 5 April 2019, with a packed week of mainly free events for people in the creative industries and tech sector.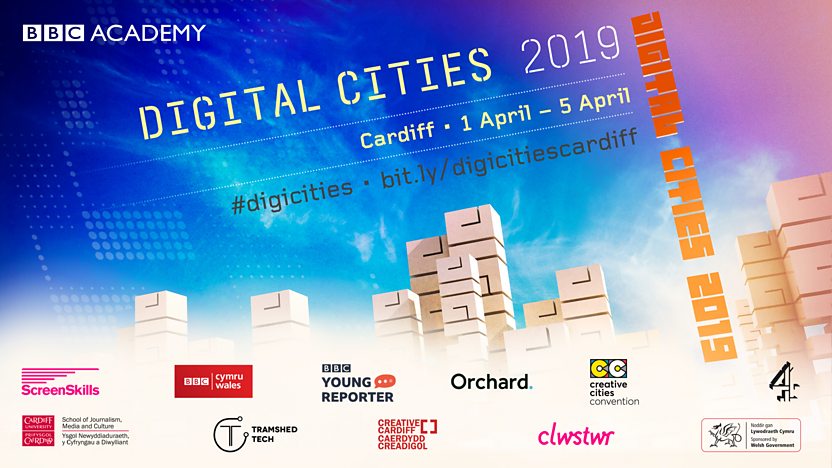 This is a must attend week if you're working in the creative and tech industries. You'll:
find out how to reach younger audiences, build your brand online and run successful social media campaigns
learn new digital production and writing skills for short form video and podcasting
discover how to get into and develop your career in the creative industries
hear from BBC, S4C and Clwstwr commissioners on what they are looking to commission
find out how BBC Cymru Wales' move into the centre of Cardiff will impact on creativity and storytelling
see how AI and technology are changing the world of journalism
network with potential employers
build connections between tech and content companies
hear from successful entrepreneurs about how they established and built their businesesses
learn from successful women in business
find out what investment and support is available to entrepreneurs
We have a fantastic line up including:
BBC Digital Skills Day (3 April at BBC Cymru Wales)
The massive growth of on-demand video, streaming, podcasting and short form video on social media platforms means that media producers need new strategies and content formats, particularly if they are to reach younger audiences.
This day provides audience insights, practical production skills workshops, and the opportunity to find out what the BBC, S4C and Clwstwr are planning to commission.
Technology and Content Innovation Day (4 April at Cardiff School of Journalism, Media & Culture)
New technology and platforms are transforming the way stories are told, who is telling them and where audiences find news and entertainment content.
This day provides insights on these trends and seeks to forge new collaborations between local tech companies and the media production sector with a focus on screen and News innovation.
Business Development Day (5 April at Tramshed Tech)
Cardiff is one of the fastest growing centres for the technology and creative industries in the UK.
This day is focused on inspiring and supporting graduates, aspiring entrepreneurs and owners of SME's to start and scale their business ideas. The day includes growth insights, practical workshops, interviews with successful entrepreneurs and 1 to 1 advice from business support organisations.
Tickets are available for some sessions already and the rest will be available by 11 March. Most events are free and open to anyone working, or wanting to work in the tech and creative industries. Follow #DigiCities for the latest information. This page is updated regularly so keep checking back for the latest information. Follow @BBCAcademy on Twitter for the latest information, such as when you can book tickets.
Earlier that week, there are two exciting UK-wide events in Cardiff that you might also want to attend:
Creative & Cultural Skills National Conference 2019 (1 April at Cardiff City Hall and the National Museum of Wales)
The Creative & Cultural Skills National Conference and Awards is a key moment in the calendar for employers, educators and policy-makers in the creative and cultural industries. This year, for the first time, the National Conference and Awards is heading to Cardiff and will be followed by an Awards ceremony that evening at the National Museum.
Creative Cities Convention (1 and 2 April at the Royal Welsh College of Music and Drama)
This two-day convention is a meeting place for everyone in the broadcasting industry. With a theme of Let's Be Friends, the focus of this year's event is on the importance of working together with a stellar line-up of speakers giving food for thought and discussion.