Saturday 17 & Sunday 18 June: Summer in Southside - Come and explore the digital world at the free Summer in Southside Festival
Taking place on 17 – 18 June, the festival comprises two exciting days of exploring all things digital.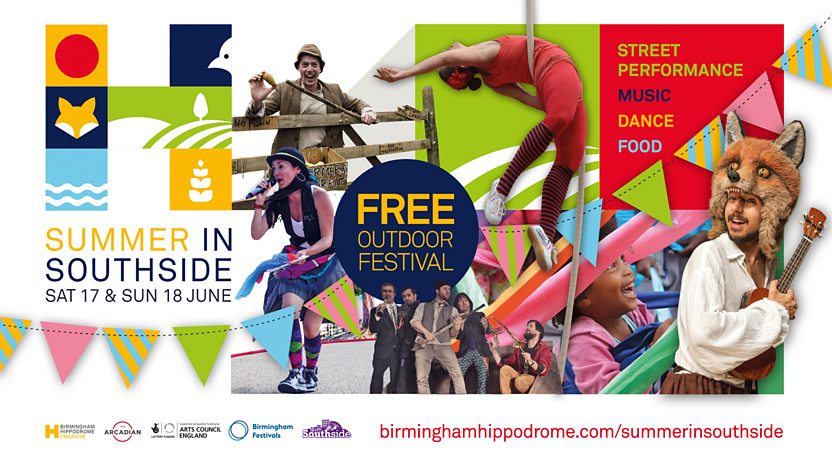 What: Summer in Southside, Saturday 17 & Sunday 18 June
Where: Birmingham Hippodrome, Southside, Birmingham, B5 4TB
When: 12:00 - 17:30
Saturday 17 & Sunday 18 June: 12:00 - 17:30 - Digital Competition
Escape to the Countryside, on the streets of Southside this Summer! This year, our annual festival celebrates the great outdoors where wildlife roams, folk dance and live music fills the air. Over the weekend, enjoy the familiar to the peculiar and unearth the hidden delights of our city. You can find tranquillity in The Arcadian, see a giant tree grow and listen to magical stories and enchanting music.
In partnership with Digital Cities, Birmingham Hippodrome are inviting audiences to use the content at the festival and develop their digital skills. For the chance to win a pair of tickets to any press night at Birmingham Hippodrome tag your video or photos with #SummerinSouthside.
Prizes will be awarded in three categories, best video, best stills photography and best capturing moment/storytelling.
Sunday 18 June: 12:00 - 17:30 - Virtual Reality
Take a stroll in the countryside without leaving the Hippodrome Foyer thanks to the magic of Virtual Reality.
Virtual Reality experts from Freemotely and South and City College will be on hand to guide you through the journey and give you tips on how to create content for the competition.
Book here via the Birmingham Hippodrome website.
Follow #DigiCities for the latest information.