About Digital Cities: North East 2017
An exciting series of free workshops, keynotes, masterclasses and networking events for the creative industries in the North East running 4-5 April 2017.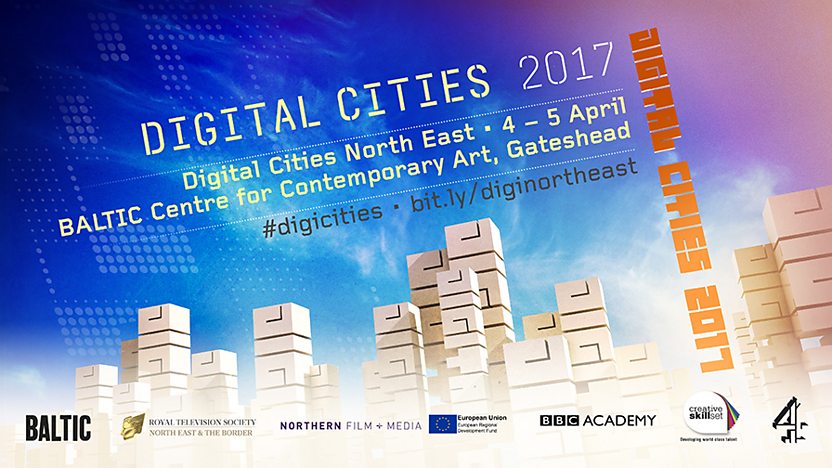 Digital Cities North East offers two days of free and bespoke events for people working in the creative industries in the North East, and for students wanting to learn more about careers in the media.
Taking place on 4 - 5 April, the event comprises two exciting specially-tailored days of training and workshops for professionals in the TV and film production, arts and media industries.
Delivered by the BBC Academy, Northern Film & Media and RTS North East & the Border, this event offers the latest in digital creativity and technological trends brought to you at BALTIC Centre for Contemporary Art, one of UK's largest dedicated contemporary art institutions, situated on the south bank of the River Tyne in Gateshead.
From practical hands-on workshops to masterclasses, surgeries and exclusive keynotes - Digital Cities North East provides a unique opportunity to learn new skills, make new connections and find out about digital innovation in the North East and beyond.
In addition to the programme for industry professionals, there will also be opportunities for students in the North East aged 13-19 to boost their digital knowledge through tailored workshops and mentoring.
If you are a student aged over 16, have a look at sessions available below.
If you are a school who would like to bring 13-16 year olds to our schools programme on the morning of Tuesday 4 April, please email Vicky Sturrs, at BALTIC Centre for Contemporary Art for further information.
To book your free tickets and explore the sessions in more detail - click on the days below:
There'll also be keynote speakers, inspiring topics and easy networking from 18:30 on Tuesday, ideal for those who can't attend the whole day programme.
Please note:
Every day there will be several 'strands' of content running at the same time, so please study the timings carefully when making your selection. When you book sessions you'll need to specify which strand/event you wish to attend in each time slot.
The BBC Academy sessions and several others are suitable for persons aged 18+ only.
Registration is from 13:00 on Tuesday 4 April and 09:30 on Wednesday 5 April in the Orientation Space of BALTIC Centre for Contemporary Art. Please arrive on time for a prompt start.
Refreshments are not provided but can be purchased in the on site cafe and from nearby retailers.
Ticket holders will be seated on a first come, first serve basis. Holding a ticket for a session does not guarantee entry but we will do our best to make sure you attend the sessions of your choice.
Looking forward to seeing you at Digital Cities North East. Follow #DigiCities for the latest information.