BBC editorial standards: A simple guide
BBC editorial standards apply to all of our content, whether made by or for the BBC. This page, intended for the general public, contains digital courses, resources and guides to our editorial standards.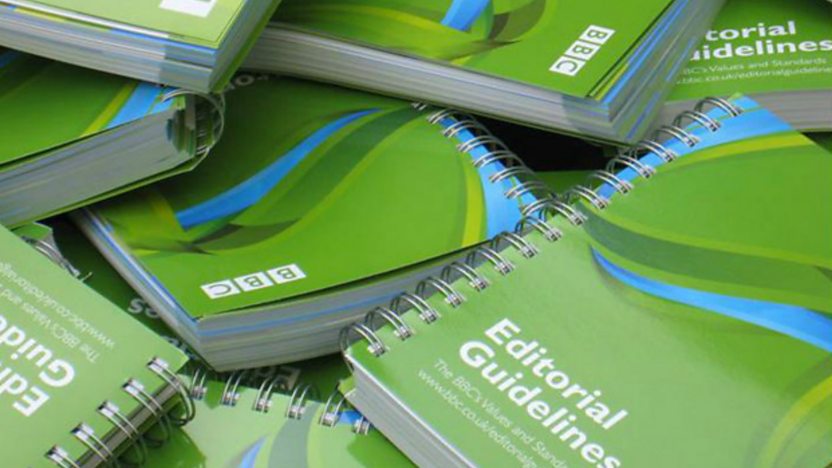 Note: BBC staff should not complete these courses here as they will not be recorded as part of your training history.
Accuracy
This module tests skills in establishing facts, avoiding misleading audiences, handling user generated material, single anonymous sources and achieving due accuracy. Includes two masterclasses - one with the Director of BBC Radio, Helen Boaden, the second on user generated content. Dur: approx. 30 mins
Presented as a quiz, this module will test the users skills in reporting statistics and risk responsibly, providing context, understanding graphs, the difference between correlation and causation, averages, outliers, surveys and samples. Dur: approx: 10 mins
Finding & Verifying Contributors
This quiz module will test the users research skills, the finding of contributors for sensitive topics, the appropriate use of advertising and sources, and checks for verifying contributors. Dur: approx. 10 mins
The module addresses issues of accuracy, including due accuracy, signposting and fairness, in a masterclass with the award winning executive producer and documentary film maker, Colin Barr. Dur: approx. 15 mins
Impartiality
This module will test skills in achieving a breadth and a range of opinions across BBC output, ensuring due impartiality and due weight in reporting controversial subjects. It also deals with personal view content and achieving impartiality over series' and over time. Dur: approx. 15 mins
Harm & Offence
This module tests understanding of the appropriateness of strong language in various contexts, time slots and on different media as well as tone and signposting. Also features a masterclass with Former Director of BBC Television, Danny Cohen. Dur: approx. 20 mins Contains strong language
Violence in News & Factual Programmes
Using real footage, this module asks users to consider the balance between the demand for accuracy and the danger of causing unjustified distress. Features a masterclass with Director, BBC World Service Group, Fran Unsworth. Dur: approx. 20 mins Contains violence and upsetting scenes
This module asks users to consider production techniques, signposting, context, tone, audience expectations and the public interest in the production of violent scenes in drama. Includes two masterclasses with BBC drama executives. Dur: approx. 45 mins Contains violence and upsetting scenes
Intimidation, Humiliation & Portrayal
This module guides users through a new guideline on intimidation and humiliation by asking them to reflect on issues of tone, creative risk taking and audience expectation. Features a masterclass with Former Executive Editor, BBC Entertainment Commissioning, Suzanne Gilfillan from BBC. Dur: approx. 30 mins
This module asks users to consider how BBC output might be interpreted by a young person and asks users to apply the Guidelines relating to the welfare of children and young people. Dur: approx. 20 mins
Privacy
In this module users are tested on filming in public or semi-public places, recording on private property and what to do if asked to stop. This module also covers use of personal material sourced from social media sites. Dur: approx. 15 mins
Reporting Death, Suffering & Distress
This module asks users to balance the media's right to report, with people's right to privacy. Users are asked to make decisions on what to film and broadcast from the scene of a fictional traffic accident. Dur: approx. 15 mins
This module tests knowledge on how to conduct an investigation, from gaining approval for secret recording, right through to door-stepping. Lisa Ausden, Creative Director, Consumer and Live Programmes, London Factual, conducts a masterclass. Dur: approx. 25 mins Contains strong language
Secret Recording for Consumer Research
This is a masterclass in which Bridget Boseley, Executive Producer at Outline Productions talks about secret recording as a method of consumer, scientific and social research, using her series 'The Secret Tourist' to illustrate. Dur: approx. 10 mins
Secret Recordings made by Third Parties
Fran Unsworth, Director, BBC World Service Group hosts a masterclass on secret recordings made by third parties and how decisions are made about their use. Sarah Ferguson and Lord Triesman feature among others. Dur: approx. 15 mins
Fairness, Contributors & Consent
Fairness, Contributors & Informed Consent
This scenario-based module will test users' knowledge of the Editorial Guidelines on fairness, obtaining consent, anonymity, deception, withdrawal of consent, right of reply and refusal to take part. Dur: approx. 25 mins
Children & Young People as Contributors
Informed Consent for Children & Young People
This module covers making decisions about consent when contributors are children. Consider the potential consequences of children taking part in the output. The casting director of children's show Escape from Scorpion Island conducts a masterclass. Dur: approx. 20 mins Contains strong language
This module outlines our obligations when working with child actors. There's a masterclass with the Executive Producer of 'Turn of the Screw', Jessica Pope about how her production handled child welfare. Dur: approx. 15 mins
Conflicts of Interest
This module takes the form of a quiz which will test users' judgement on conflicts of interest. The user finds themselves in several different roles, both behind the scenes and on air and is asked to respond to a number of hypothetical questions, including requests for public appearances, media training, commercial advertising, promotional activity and endorsements. Users will be given a score at the end. Dur: approx. 15 mins
Interacting with our Audiences
This module sees users in charge of an unruly radio presenter intent on running a competition. Users navigate their way round the Editorial Guidelines and the guidance. They also get a photographic competition off the ground. Dur: approx. 20 mins
Reporting Crime & Anti-Social Behaviour
Reporting Crime & Anti-Social Behaviour
In this module the user is the producer of an observational documentary who is made aware of crime and criminal activity. This is as test of nerve and skills in handling such sensitive information. Dur: approx. 15 mins
Dealing with Criminals, Witnesses & Victims
In this module, users are pursuing a drugs story and a fast moving police investigation. What can they report, who can they speak to and how do they care for the victims? Dur: approx. 15 mins
External Relationships & Funding
This module is a masterclass on how to get the most out of public value partnerships to get more out of productions and leverage the value to the licence fee payer. A History of the World in 100 Objects, Frankenstein's Wedding and The Tate Movie Project are studied. Dur: approx. 15 mins
Politics, Public Policy & Polls
Opinion polls, surveys and questionnaires are useful and fruitful ways of listening to our audiences, but we must be scrupulous about setting them up and reporting them. In this module users will handle fictional data relating to the NHS making sure they report it accurately and fairly. Dur: approx. 30 mins