Military ranks
The ranks of the UK armed services can be confusing. The chart below - edited by Dr Duncan Anderson, head of war studies at the Royal Military Academy Sandhurst - sets out the equivalent ranks in the three UK services and the US Army. Guidance is provided by Sub Lt Max Cosby, Royal Navy.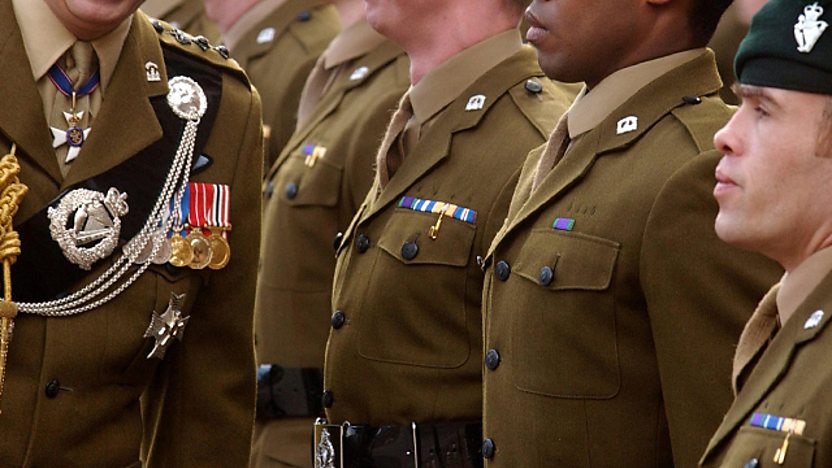 This page was last updated on 19/05/2015
Many journalists struggle to know their wing commander from their lieutenant commander, let alone where a US brigadier general comes in the pecking order.
Strictly speaking, when the three UK armed forces are talked about in the same breath they should be listed in order of the seniority of the service: Royal Navy, British Army, Royal Air Force.
Confusingly, the Royal Marines are part of the Royal Navy but use the rank structure of the British Army. To distinguish Royal Marines from their Army colleagues, their name should be followed by the words 'Royal Marines' or 'RM' - for example, 'Lt Jack Smith Royal Marines' or 'Sgt Tom Brown RM'.
To distinguish naval ranks from army ranks, such as captain and lieutenant, all Royal Navy officer ranks below admiral (midshipman all the way up to commodore) are followed by the words 'Royal Navy' or 'RN' - for example, 'Lt Jack Smith Royal Navy' or 'Lt Jack Smith RN'.
Officers
The term 'officer' refers to someone with a commission. Warrant officers do not hold one. The same applies to Royal Navy chief petty officers and petty officers.
And remember: the word 'lieutenant' should be pronounced 'lef-tenant' rather than the US 'loo-tenant'.
Lining up equivalent ranks in the Royal Navy, British Army and Royal Air Force with their counterparts in the United States Army is not an exact science, so the chart below is intended as a rough guide only:
ROYAL NAVY

RAF

BRITISH ARMY

US ARMY

Admiral of the Fleet

Marshal of the Royal Air Force

Field-Marshal

General of the Army

Admiral

Air Chief Marshal

General

General

Vice-Admiral

Air Marshal

Lieutenant-General

Lieutenant General

Rear-Admiral

Air Vice Marshal

Major-General

Major General

Commodore

Air Commodore

Brigadier

Brigadier General

Captain

Group Captain

Colonel

Colonel

Commander

Wing Commander

Lieutenant-Colonel

Lieutenant Colonel

Lieutenant-Commander

Squadron Leader

Major

Major

Lieutenant

Flight Lieutenant

Captain

Captain

Sub-Lieutenant

Flying Officer

Lieutenant

1st Lieutenant

Midshipman

Pilot Officer

2nd Lieutenant

2nd Lieutenant

Warrant Officer 1

Warrant Officer

Warrant Officer 1

Warrant Officer 1

Warrant Officer 2

N/A

Warrant Officer 2

Sergeant Major/




Command Sergeant Major

Chief Petty Officer

Flight Sergeant

Staff Sergeant

Master Sergeant/




1st Sergeant

Petty Officer

Sergeant

Sergeant

Master Sergeant/




1st Sergeant

Leading Hand

Corporal

Corporal

Corporal/

Specialist 4th Class

N/A

Senior Aircraftman

Lance-Corporal

N/A

Able Rate / Marine

Aircraftman

N/A

Private 1st Class

Able Rate (2)

Aircraftman

Private

Private (E2)
Photograph: Getty Images