Digital Cities Belfast: 11 to 17 November 2017
Take part in a wide range of free training opportunities and workshops provided by the BBC Academy and partners at venues across the city.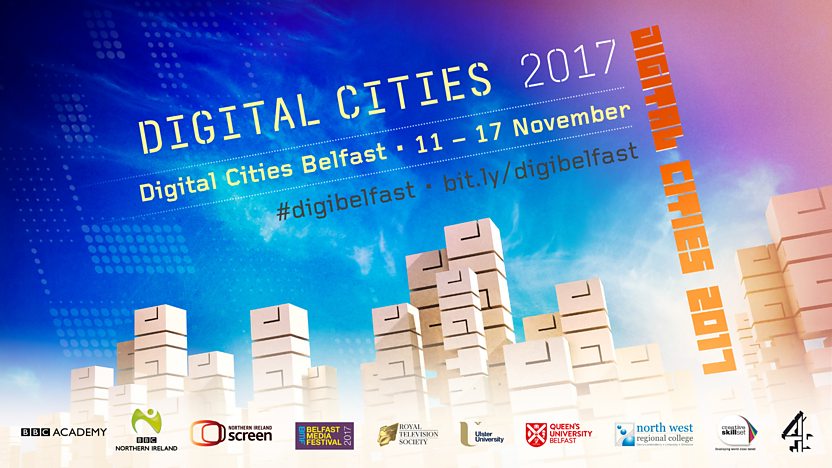 Digital Cities Belfast has a packed programme of events including:
The launch event hosted by ProductTank Belfast
The BBC Academy Digital Skills Day is for both experienced professionals wanting to boost their digital skills and new entrants to digital production. Book via Eventbrite
A hackathon for the screen industries and tech community to develop innovative new games, immersive and interactive experiences across all platforms. Book via Eventbrite
Royal Television Society's Futures Careers Day where you can get expert career advice on how to get into the creative sector
A Games Northern Ireland meet-up will feature a panel of professional developers from different disciplines talking about how to get into the games industry
Plus much, much more
Digital Cities Belfast is a week-long series of free events and workshops across the city aimed at developing digital skills, sharing knowledge and creating networking opportunities for Belfast's creative and digital sector.
Partners include the BBC Academy, BBC Northern Ireland, Northern Ireland Screen, Belfast Media Festival, Royal Television Society, Ulster University, Queen's University Belfast, North West Regional College, among others.
A Digital Cities Londonderry/Derry Day, run by North West Regional College, will also be taking place during the week.
Tickets are likely to go fast and places are limited. Follow @BBCAcademy #Digibelfast on Twitter or like the BBC Academy page on Facebook for the latest information, like when you can book your tickets.