The aim of the 50:50 Project is to increase representation to ensure the BBC reflects the make-up of its audience.
To understand whether audiences have perceived an increase in female representation, BBC Audiences conducted a survey of people who use any BBC online service in March 2020. These include BBC websites, iPlayer and BBC Sounds.
Find the latest Audience Research from February 2021 here.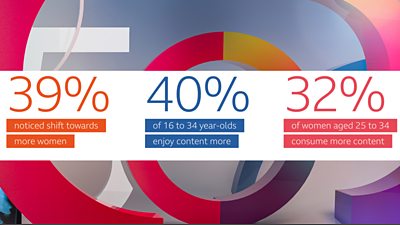 Some 39% of 2,000 people surveyed said they had noticed a shift in gender balance over the last two years towards more women in BBC online content. One percent of respondents thought the number of men had increased.
Among 16 to 34 year-olds, 40% say they derived greater enjoyment from BBC content as a result of seeing and hearing from more women. Only 7% of this group said they enjoyed content less. And for younger female audiences, 66% of women aged 16 to 24 say they enjoy BBC online content more.
Meanwhile, 32% of women aged 25 to 34 say they now consume more BBC online content because of greater female representation. These figures underline the value of featuring more women in BBC output.
Methodology: This survey was carried out online using the YouGov panel. Interviews were conducted with a sample representative of the 16+ UK population. Quotas and weighting were applied.
---
BBC stories

See how BBC teams have increased representation in their content

How it works

50:50's three core principles explained and how we tailor them

Impact Report 2021

The latest challenge results are out showing that data can effect change