BBC Weather Guide
We have provided an interactive guide to help explain what the different parts of the Weather site do.
Use our FAQ guide for the most up to date details of the Weather site.
Homepage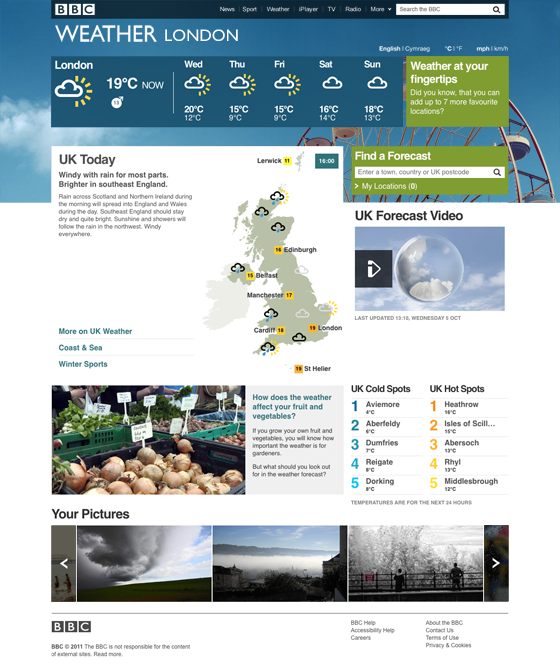 Local

Get a quick view of the weather from your saved locations. If you have no saved locations we offer a suggestion to demonstrate the feature.

Find a Forecast

Go here to find your local forecast using a town name or a postcode. You can also quickly save and retrieve your favourite locations here.

UK Overview

Get an overview of the UK weather here.

Features and Analysis

You'll find all of our features and analysis presented here in one place, including the background on the latest UK and world weather stories.
Forecast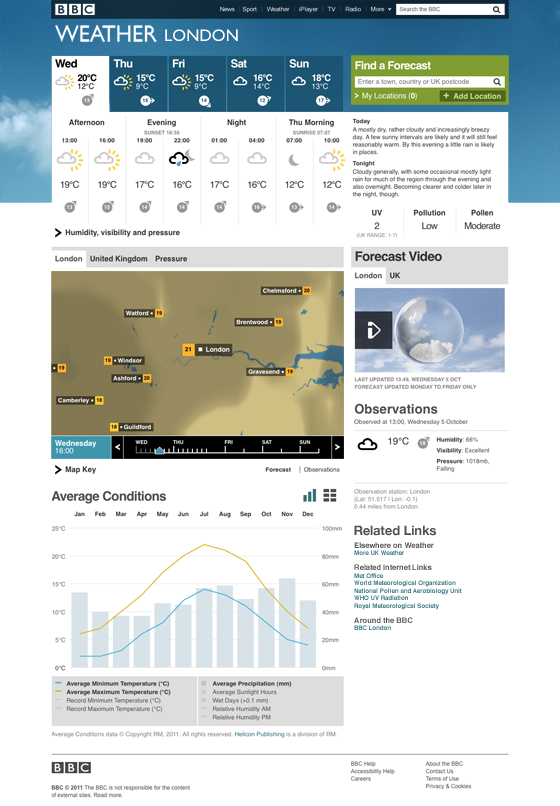 Detailed Forecast

Here you'll find all the detail you normally expect from BBC Weather, including the 5-Day and 24-Hour forecasts now visible at a single glance. We've also given more space for health information such as pollen.

Maps

Maps aren't everyone's cup of tea, but we know how important they are to those of you who use them. We've re-organised everything here and put your location right in the middle of your local map. Temperatures are included, and we will be adding wind information later. Your country view and local pressure area are just a click away using the tabs.

Average Conditions

Unfortunately only appearing on a limited number of locations, the interactive Average Conditions graph allows you to look at local climate data and play with it to compare different values. Where you find it, use the links below the graph to change the values being displayed.