Royal weddings: Cakes, corgis and celebs
A public love affair
In 1923, the wedding of Prince Albert and Elizabeth Bowes-Lyon broke with tradition by taking place in public rather than at a royal chapel. In 1947, the union of Princess Elizabeth and Philip Mountbatten was broadcast live on radio.
Little more than a decade later, 20 million watched Princess Margaret marry Antony Armstrong-Jones live on TV. The pageantry and kiss on the Buckingham Palace balcony are all now well-worn traditions, but there's more to royal weddings than that.
26 April 1923
Prince Albert and Elizabeth Bowes-Lyon
Getty Images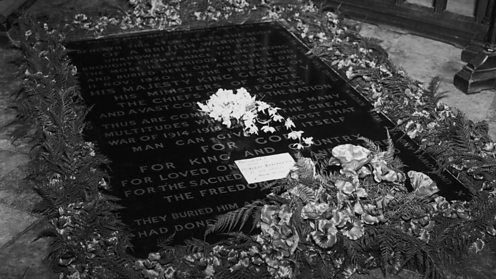 Socialite Elizabeth Bowes-Lyon accepted the proposal of shy, stammering Albert on his third attempt.
The wedding was a grand public occasion at Westminster Abbey, rather than a conventional private ceremony at a royal chapel. This decision was probably taken to cheer a nation still recovering from World War One. But the line was drawn at a radio broadcast – the Archbishop of Canterbury was worried that people might be sitting down or, even worse, drinking during the national anthem. Elizabeth laid her bouquet at the Tomb of the Unknown Warrior, royal brides since have copied her gesture.
The Royal Household: King George VI
20 November 1947
Princess Elizabeth and Philip Mountbatten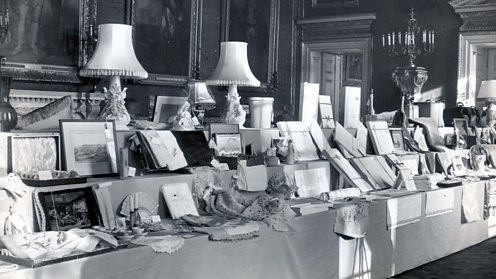 You need to have JavaScript enabled to view this clip.
The couple first met at a wedding in 1934. After meeting again in 1939, they began exchanging letters and became secretly engaged in April 1946.
A formal engagement was delayed until Elizabeth turned 21 in April 1947 and announced to the public on 9 July. With rationing still in place after the war, the Princess used coupons to obtain her wedding dress material. Also, due to austere times, the couples' kneelers were made of orange boxes covered in silk. Their 2,500 wedding presents included crocheted lace made from yarn spun by Mahatma Gandhi. They left Waterloo station for their honeymoon accompanied by Elizabeth's corgi, Susan.
BBC News: Sixty facts about the Queen's marriage
Again and again the people called for Elizabeth and Philip. Again and again they joyfully responded.
6 May 1960
Princess Margaret and Anthony Armstrong-Jones
Daily Mail/REX/Shutterstock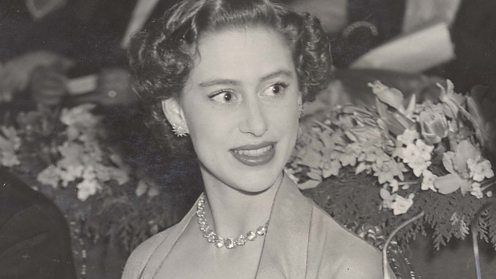 The Queen's sister was at the centre of a fashionable group of aristocrats known as The Margaret Set. Her marriage was the first televised wedding.
Millions of viewers tuned in, but some crowned heads of Europe were noticeably absent when the Princess married a photographer. She had been in love with Group Captain Peter Townsend, a divorcee. But in 1955, "mindful of the Church's teaching", she ended their engagement. Official papers later revealed she would have been allowed to keep her royal title had she wed Townsend, but the ceremony could only be in a register office. In 1978 she became the first royal to divorce since Henry VIII.
Margaret: A life of glamour and controversy
Desert Island Discs: HRH Princess Margaret
We shall have about 25 cameras ... almost as big an operation, if not as big, as the coronation.
14 November 1973
Princess Anne and Captain Mark Phillips
Getty Images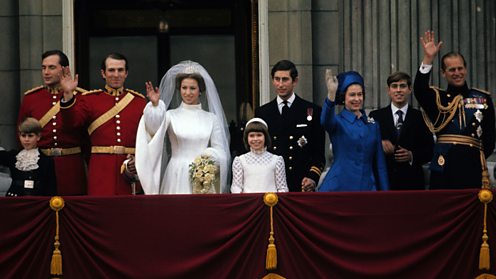 Around 500 million viewers tuned in. It was only the second time in over 200 years that a member of the British Royal Family had married a commoner.
The couple met through a shared interest in horses, Mark was an Olympic gold medallist with the British equestrian team. A shy man, he was thrown into the limelight. In 1974 the pair escaped a kidnap attempt in which four people were wounded. Before the wedding, a BBC reporter had asked them to define the qualities of a successful marriage. A smiling Princess Anne replied, "perhaps you'd better come back in 25 years' time and we'll tell you." Sadly it was not to be – they divorced in 1992.
On This Day: Crowds cheer marriage of Princess Anne
BBC News: "I took three bullets for Princess Anne"
29 July 1981
Prince Charles and Lady Diana Spencer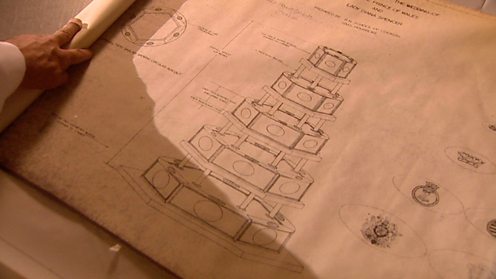 You need to have JavaScript enabled to view this clip.
The wedding of Prince Charles to Lady Diana Spencer attracted an estimated TV audience of 750 million – the most popular programme ever broadcast.
Commentary was offered in around 30 different languages. BBC pictures of Charles in naval uniform and Diana in ivory taffeta, with a magnificent 25ft train, were beamed across the globe from Korea to the Maldives. Japan had the biggest audience, with 70 million viewers on six TV channels. One Japanese reporter had her hair cut in Diana's famous style. At home, the baker who worked on the couple's wedding cake for six weeks in secrecy claimed to have suffered snow blindness from the white icing.
Charles and Diana wedding cake slice sold for £828
Silkworms do their bit for the big day
There were certain days where I was working in a kitchen that was white, and the cake being white I just got what we call snow blindness.
23 July 1986
Prince Andrew and Sarah Ferguson
PA Images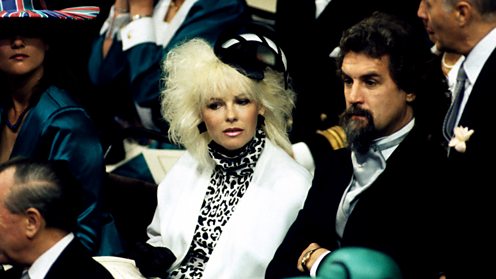 Two thousand guests were invited to this summer wedding – among them Nancy Reagan, Elton John, Michael Caine, Billy Connolly and Estée Lauder.
The new Duchess of York agreed to obey her husband – a clause omitted by Princess Diana in her vows to Prince Charles. In the era of apartheid sanctions, viewers in South Africa were left frustrated. An announcement prior to transmission warned: "Due to restrictions imposed by Equity and the British Musicians' Union we will not be able to relay music from inside the Abbey." The couple divorced in 1996, but have remained close.
On This Day: Prince Andrew weds Sarah Ferguson
On This Day: Fergie and Andrew split
19 June 1999
Prince Edward and Sophie Rhys-Jones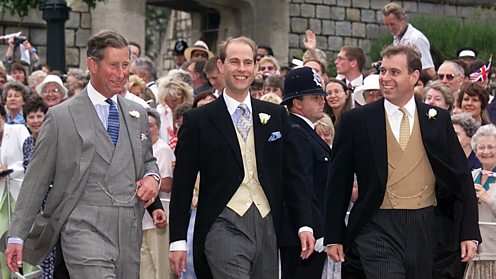 You need to have JavaScript enabled to view this clip.
The couple had a long courtship, marrying more than five years after their relationship began. By this time all Edward's siblings had divorced.
Sophie's background was more down to earth than any royal bride before her. Although a modern career woman, she took the vow of obedience. At the couple's request the ceremony was at St George's Chapel, a modest venue compared to Westminster Abbey. The groom strolled to the chapel from Windsor Castle, and guests were primarily family and friends. Princess Margaret attended in a wheel chair, having scalded her feet in a bath three months previously.
BBC News: The prince with a difference
BBC News: PR girl turns princess
I was slightly stunned for a minute, and then I suddenly realised I should actually answer the question and so then I said yes – I said yes please.
9 April 2005
Prince Charles and Camilla Parker Bowles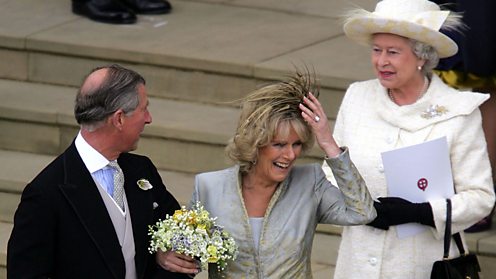 You need to have JavaScript enabled to view this clip.
It was the second marriage for both bride and groom when Prince Charles wed his long-time companion. The pair first met at a polo match in 1970.
Their continued friendship led to tension – in 1995 Princess Diana said: "There were three of us in this marriage, so it was a bit crowded." The ceremony was at Windsor Guildhall, not Windsor Castle as planned. Licencing the Queen's home for a civil ceremony would have allowed members of the public to marry there for the next three years. Guests at the service of blessing at St George's Chapel which followed said the Queen described how proud she was of Charles as she wished the couple well.
BBC News: Charles and Camilla's romance
BBC News: The heir at 65
29 April 2011
Prince William and Kate Middleton
Associated Press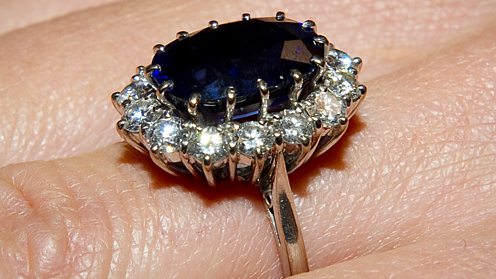 The couple met at St Andrews University in 2001. Kate is credited with persuading William to stay on as he struggled to adjust to student life.
William proposed on holiday in Kenya in October 2010. He gave Kate his mother's engagement ring, which he had been carrying in his rucksack for three weeks: "I knew if it disappeared I'd be in a lot of trouble … She's not going to be around to share any of the fun and excitement, this is my way of keeping her close to it all." The couple's first child, Prince George, was born a little over two years later with a daughter, Princess Charlotte, following in May 2015.
Royal wedding: Images of the day
Royal wedding in numbers
When I first met Kate I knew there was something very special about her.