New Supplying the BBC website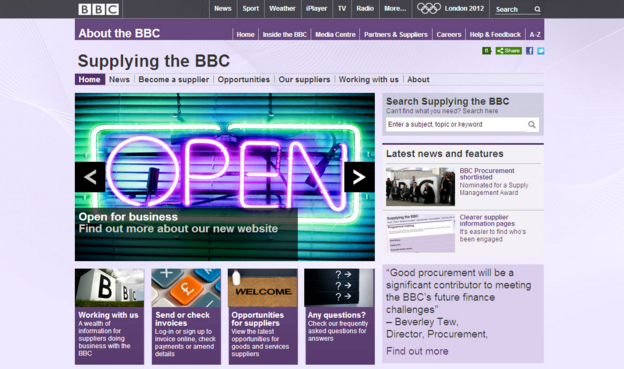 Date: 16.07.2012
Last updated: 19.02.2014 at 10.07
Welcome to the new Supplying the BBC website.
The new site brings together information for suppliers of goods and services to the BBC. It is also where suppliers can find out about the latest opportunities, who we're currently working with, and more about the Procurement team.
It's been designed to enable existing suppliers to quickly find the information they need when working with the BBC as well as describe how new suppliers can find out about opportunities.
The Supplying the BBC site is organised into five main areas:
The new site offers a number of improvements including clearer layout and simplified navigation as well as a new search function.
We'd really welcome your feedback so please tell us what you think. Use our contact us form to get in touch.
Search the site
Can't find what you need? Search here