Andy Murray claims first win after returning from back injury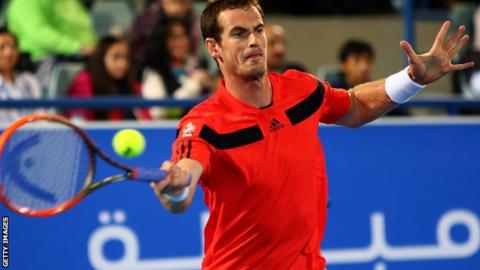 Andy Murray has recorded his first victory since returning to tennis following a back operation.
The Wimbledon champion and British number one beat Stanislas Wawrinka 6-3 6-4 at the Mubadala World Tennis Championship exhibition in Abu Dhabi.
Murray, 26, lost to Jo-Wilfried Tsonga on Thursday in his first match since having surgery in September.
"It's good to get two matches against top players," said Murray. "It's been a perfect start."
Murray, ranked fourth in the world, returns to competitive action in the Exxon Mobil Open in Qatar next week as part of his preparations for the Australian Open, which begins in Melbourne on 13 January.
The 2013 BBC Sports Personality of the Year added, "I feel pretty good; a lot better than I did a few months ago. I just need to play more matches like this because the intensity's a lot higher than you can get in practice.
"It was good to get two matches against top players. Everyone needs matches at this stage, especially me. It's been a perfect start and hopefully I'll get better."