BBC Sport - Jack Nowell: Exeter and England winger on his 'split personality'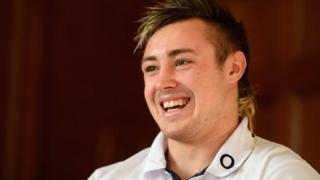 Nowell on his 'split personality'
Exeter Chiefs winger Jack Nowell - who has been called up for England's Six Nations squad - says he has two personalities, with his flamboyant off-field appearance contrasting with his rock-solid displays on the pitch.
"That's me as a person - as soon as it comes to rugby, that's the serious stuff but when you get the chance to have a bit of fun then I do like to do that, and the hair and stuff is a bit of fun," Nowell told BBC Radio 5 live.
"Everyone goes on to me 'you do all this stuff to your hair and then you put a scrum cap on', but for me it's not about what you look like on the pitch, it's about what you do."
Get Inspired Activity Finder
Run by the BBC and partners
Find ways to get active near you: