Pontypridd accuse Cardiff Blues of 'arrogant contempt' on signings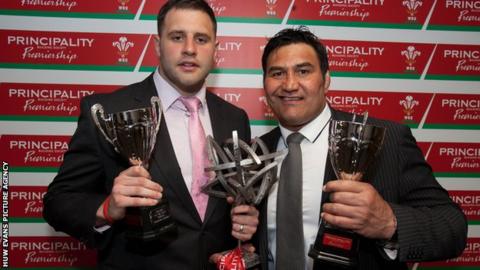 Cardiff Blues have been accused of not making an official approach for Pontypridd head coach Dale McIntosh and captain Chris Dicomidis.
Stephen Reardon, Pontypridd's chief executive officer, made the allegations on the club website.
McIntosh was named as Blues defence coach in October, while lock Dicomidis signed for the region a month later.
Reardon claims Pontypridd were treated with "arrogant contempt" by the Blues, who are their regional side.
He makes the allegations against the Blues in a statement called "Reclaim our Game".
Reardon wrote: "Is 'Our Game' the one in which a region holds a club in such arrogant contempt that it recruits the club's head coach and captain in mid-season without making an official approach to the club?"
Cardiff Blues have been asked to comment on Reardon's allegations.
New Zealand-born McIntosh, capped twice by Wales, quit as Pontypridd head coach and left his role as Welsh Rugby Union performance skills coach.
The 43-year-old moved to the Arms Park following which came after Blues
Pontypridd lock Dicomidis joined the Blues on a full-time basis on a long-term deal.
The 29-year-old had been a key figure for Pontypridd over the last decade and was appointed captain in 2010.
Dicomidis represented Wales at Under-19 and Under-21 levels, has played for the Barbarians and has also represented Cyprus.