Bradford Bulls directors quit Super League club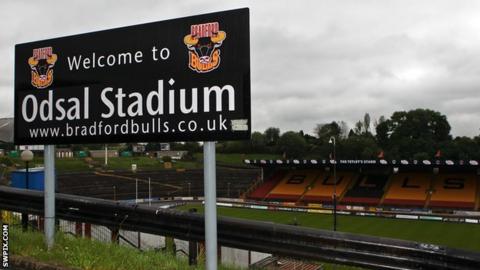 Bradford Bulls chairman Mark Moore and fellow directors Ian Watt and Andrew Calvert have resigned from the club.
The shock move is more bad news for the Super League outfit, who have been plagued by financial problems.
Moore, who only took over as chairman from Omar Khan in September, quit after the board of directors were told that the transfer of shares from the club's previous owners would not happen.
The Bulls spent more than two months in administration in 2012.
Earlier this month, Moore told the club's fans that the financial problems they were dealing with were worse than they had thought.
They said Bradford needed to make savings of up to £400,000 and a day later redundancies were made across the club.
Moore cited Khan's refusal to transfer his shares to the board as the key reason for their decision to quit, claiming in the process that Khan was requesting the repayment of director's loans be made by the club.
"We are unhappy the situation has led us to this point, but without owning the shares to the business, the club will be at the mercy of whomever has that control," read a statement from Moore.
The Rugby Football League said it was trying to come up with a solution.
"Our initial concern was that all Bradford Bulls players and staff will be paid, which we have now been reassured is the case," said a spokesperson. "We will now work with all parties involved to try and resolve a very sensitive issue at the club."
Khan and Gerry Sutcliffe MP bought Bradford back in 2012 after the club fell into financial difficulties.
Responding to the news Sutcliffe said he was surprised with both the timing and the context of the announcement.
"I am shocked and surprised by the announcement, especially the cynical timing of the announcement which will seriously affect the future of the club," Sutcliffe told the Bradford Telegraph and Argus.
"When I stepped down as honorary chairman in September it was on the understanding that the new team had agreed the sale of the club from Omar Khan due to his ill health.
"That agreement has not been honoured according to Mr Khan. I remain available to have discussions with any party committed to the sustainable future of the club."