Olympic cycling: Anna Meares says win over Victoria Pendleton is 'just reward'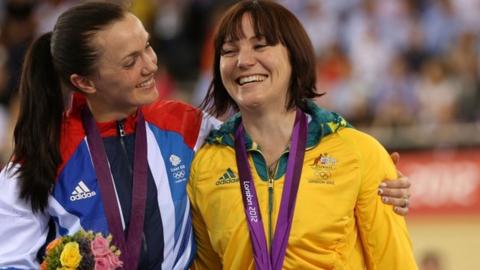 Australian Anna Meares was delighted to get her "just reward" after beating arch-rival Victoria Pendleton to the Olympic sprint title.
Pendleton denied Meares gold at the Beijing Games but the Queenslander got revenge with a 2-0 win in the best-of-three showdown at the London Velodrome.
"She's been that target, that goal that I've been working towards over the past four years," said Meares, 28.
"To win the Olympic title is so special. It feels like a just reward."
Pendleton had edged the first race by the tightest of margins but was then relegated to second for leaving her lane, handing Meares a 1-0 lead.
The Australian led out the second race and, after forcing Pendleton to take the initiative, she out-muscled Pendleton to the line to take Olympic gold.
Meares said she was glad she had defeated Pendleton, above all her competitors, in the final.
"Victoria's such a hard-fought opponent and she's dominated the sport for so long," Meares said.
"I wanted the chance to race Vicky in the final, because I know that she's the best and I wanted to be the best.
"She's a champion, arguably one of the best sprinters of all time and definitely one of the best in the modern sprinting era."
A tearful Pendleton, who has now retired from cycling, also paid tribute to her Australian rival.
"We had a good hug down there afterwards," said Pendleton. "She did a fantastic job, she's a fantastic competitor, a very worthy winner and an amazing rival over the years."
Meares collected Australia's first gold medal in the velodrome of these Games having already claimed a bronze in the women's team sprint.
The 28-year-old won Olympic gold in 2004 when she stormed to the 500m cycling time trial title - Pendleton finished sixth in the same race.
Meares then showed her steel by fighting back from serious injuries, sustained in an on-track crash, to compete at the Beijing Games but was determined to take gold in London.
"I wanted to do it as much for myself as I did for my team and my country," said Meares.
"It's been such a difficult challenge. I've tried so much and worked so hard for a long period of time and I've asked a lot of people around me to do the same."