Rower Chris Bartley secures Wales' first medal at London 2012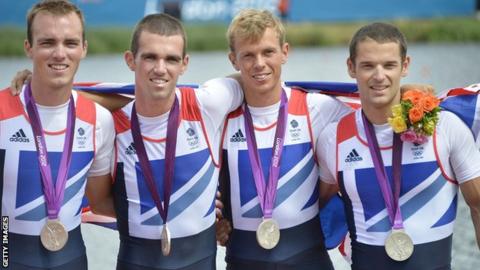 Rower Chris Bartley has become the first Welsh Olympic medallist at London 2012 with silver in the lightweight men's four.
Bartley, along with Rob Williams and brothers Richard and Peter Chambers, were second in a thrilling race won by South Africa.
"We kind of dug in, had a really good second half and I don't remember much of the last 500 [metres] to be honest," Bartley told BBC Sport Wales.
"I didn't know where we finished.
"I knew we'd got a medal and I was pretty pleased to be on the podium.
"I would have liked to go one better, but a sliver medal - I'm over the moon really."
Bartley and the Great Britain crew won Britain's third rowing medal, in six minutes 03.09 seconds.
Britain now have three rowing medals with gold for Helen Glover and Heather Stanning and the men's eight bronze.
"I didn't feel that much emotion afterwards, I felt incredibly sick and I had a banging headache if I'm honest," added Bartley.
"I'd pretty much given it all I had physically and it took me just a while to recover.
"It's not really sunk it yet that I've got a medal at a home Games.
"It's just amazing really."
"Lets hope for more success to boost our medal tally."
Tributes have been pouring in for Bartley and the crew.
Wales National Rowing Coach Ian Shore was among the first to congratulate the Welshman.
"It was a stunning, stunning race," Shore said.
"They went into the race wanting gold and so they are clearly disappointed but what a fantastic advert for rowing in terms of how close it was.
"It was a phenomenal race to be part of and Welsh Rowing is very proud of Chris and the crew."
Chair of Sport Wales Laura McAllister also offered congratulations.
"It was truly wonderful to be at Eton Dorney to see Wales' first medal of the Games and in such an exciting and tightly fought race," said Professor McAllister.
"I'm sure that this is just the start of a successful Games for Wales."
Wrexham-born Bartley arrived on the international scene by winning lightweight four sculls bronze in the 2007 World Championship.
But it would be in the lightweight four that he would achieve greater success.
He won World Championship gold in his new boat in 2010 but had to settle for a bronze a year later in Slovenia.
Bartley prepared for the Olympics having won bronze in the Lucerne World Cup, silver in the Belgrade World Cup and gold in the Munich World Cup in 2012.
The 28-year-old Bartley is one of a record 30 Welsh athletes at London 2012 - Wales' best representation at the Games since 1908.
Wales celebrated their best medal haul since 1948 in Beijing four years ago as five of 12 Welsh competitors in Beijing won medals, including three golds.
Welsh Olympians were set a "six to 10" medal target for the 2012 London and 2016 Rio de Janeiro Games by Sport Wales.