Olympics judo: Slovenia's Urska Zolnir wins -63kg gold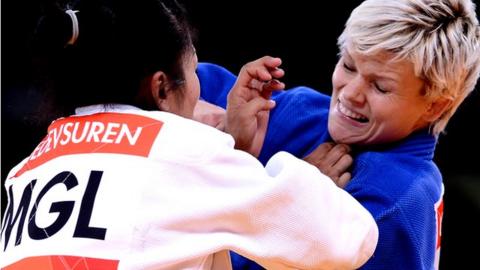 Slovenia's Urska Zolnir beat China's Xu Lili to take gold in the women's -63kg final at ExCeL.
Zonir, 30, is the first judoka outside of France or Japan to win the Olympic women's half-middleweight title.
In taking silver, Xu becomes the first Chinese judoka to win a medal at London 2012.
The bronze medals were won by world number one Yoshie Ueno of Japan and France's Gevrise Emane, who knocked out Great Britain's Gemma Howell.
After twice coming close to scoring with leg grabs in the first minute of the final, Zolnir recorded a waza-ari which was extremely close to a match-winning ippon. However, Xu narrowly managed to avoid being moved onto her back by the 2004 Olympic bronze medallist.
The Slovenian controlled the match from then on, despite suffering an accidental slap in the mouth from her Chinese opponent, and Xu needed an ippon in the final seconds to take the gold.
She managed to score a yuko, her first point of the match, but it was not enough to deny Zolnir.
Earlier, Howell's Olympic hopes were ended in the first round by France's Emane.
Howell, 22, received a hansokumake disqualification for an illegal leg wrap.