Olympics swimming: Simon Burnett retires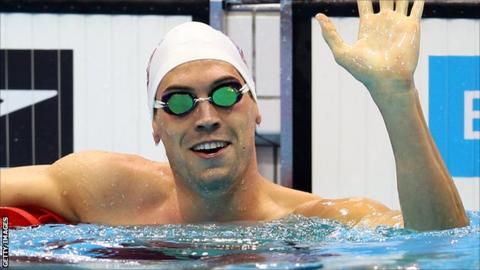 Simon Burnett has retired from swimming after the British team failed to reach the final of the men's 4x100m freestyle relay on Sunday.
Oxfordshire's Burnett, who is a double Commonwealth Games gold medallist, was competing in his third Olympics but has called time on his swimming career.
The 29-year-old says he will now head back to the United States to live.
"It would have been nicer to finish off my career with a better swim than I had," Burnett told BBC Radio Oxford.
The Tetsworth swimmer still holds the British record for 100m and 200m freestyle, but says having swum internationally for over a decade he has become used to the disappointments over the years.
He also says the experience of swimming at an Olympics in front of his home crowd will live long in the memory.
"It sounds easy to say but I've had a long career with plenty of ups and downs and it's got easier to deal with over the years," he said.
"There is no point dwelling on it, I've just got to put a brave face on so I can deal with it.
"I felt really good going into the race and was confident of leading off our relay but it just didn't happen for me and at the moment I can't really say more than that.
"I haven't looked at the tape or looked at the splits yet, perhaps in a week I will. For the moment I'm just trying to enjoy the rest of the Games."
Burnett added: "It [the crowd] was brilliant and it can't be underestimated how important that is.
"It's been amazing and their support without a doubt increases our performance and everybody who swims out there is absolutely buzzing because of the support.
"I just want to encourage everyone to keep turning up and keep supporting Team GB because you do make a difference."