Olympics taekwondo: Carlo Molfetta wins gold in +80kg category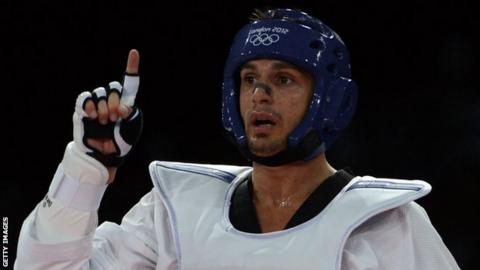 Carlo Molfetta of Italy won gold in the +80kg taekwondo at London 2012.
The Rome policeman was awarded the gold medal following a 9-9 draw with Anthony Obame of Gabon, who won his country's first ever Olympic medal.
Obame was just 15 seconds away from a historic victory before a head kick by Molfetta rescued the Italian, who was subsequently awarded victory by the judges at the ExCeL.
Robelis Despaigne of Cuba and China's Xiaobo Liu both won bronze.
Despaigne won his medal by default after his opponent, two-time world champion Daba Modibo Keita, did not show.
He had previously been struggling with a knee injury but missed the chance to win a first Olympic medal for his country, Mali.
Xiaobo beat Bahri Tanrikula of Turkey 3-2 to secure his first Olympic medal but Tanrikula was left disappointed after earlier beating the 2008 Olympic champion and world number one Dongmin Cha of South Korea.