Olympics sailing: Spain beat Australia to win Elliott 6m gold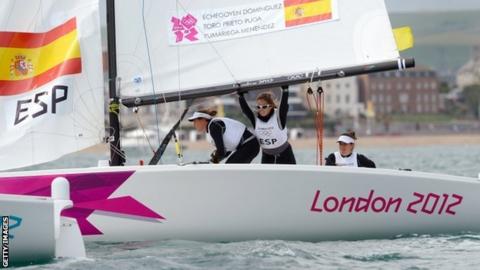 Spain beat Australia 3-2 to win the gold medal in the women's Elliott 6m match racing class at the Olympics.
After winning the second race to draw level in the best-of-five race final, Australia skipper Olivia Price fell out of her boat to gift Spain a 2-1 lead.
Australia responded well to level the match before losing the final race, meaning they had to settle for silver.
Finland won the race for bronze 3-1, surviving an appeal from the Russian boat over accusations of a false start.
The Russian skipper Ekaterina Skudina raised a protest flag as they crossed the finish line behind Finland at the end of the fourth race.
They believed both boats had been over the starting line early, but after lengthy deliberations the umpires dismissed the appeal and awarded the race win and bronze medal to Finland.