Rosie MacLennan wins gold as Brit Kat Driscoll misses final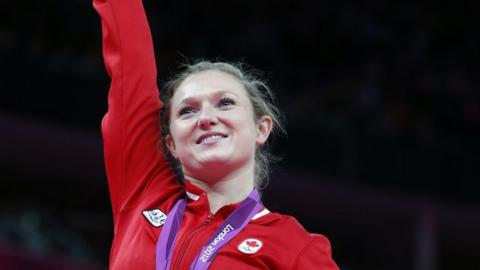 Canada's Rosie MacLennan won gold in the Olympic trampoline event as Briton Kat Driscoll missed out on the final by a tenth of a mark.
MacLennan, 23, was the silver medallist at last year's World Championships in Birmingham and outscored China's Huang Shanshan, who took silver.
Favourite He Wenna fell in the final but still went on to secure bronze.
Driscoll lost her qualifying place by a tenth of a mark to the final competitor, American Savannah Vinsant.
The devastated Briton said she would "never get back" the chance to reach the Olympic trampoline final.
"That was the highest finish we've had at the Olympics for a woman. It's just so disappointing to be so close to the final," she said.
The 26-year-old was the world number one for most of 2011 but the ranking did not reflect China's dominance of the sport's major events.
Nevertheless, the lone Briton in the event had high expectations of making the last eight and challenging for a place on the podium at her home Games.
But Vinsant pushed her into ninth in qualifying, scoring 100.995 to Driscoll's 100.985.
"I'm proud of my routines. I feel like I should have been in the final but... never mind," said Driscoll, speaking through tears after missing the cut.
"You hope you've done enough and you just have to sit and watch, and see what comes from it. To finish ninth, when the top eight made the final, is a horrible position to be in.
"To compete in front of that crowd was an absolute honour. I'm never going to get that back again. That was a fantastic thing to have been a part of."