GB's Samantha Murray and Mhairi Spence in Olympic medal hunt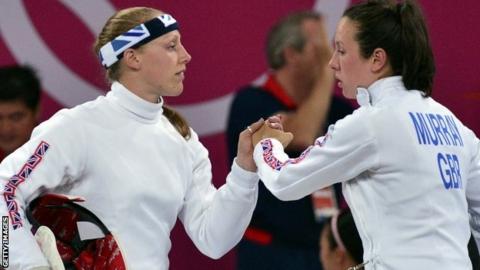 World bronze medallist Samantha Murray moved up to third place overall after a strong swim in the women's modern pentathlon, with two events remaining.
Murray swam her 200m freestyle heat in two minutes 8.20 seconds, just behind the Olympic record of Hungary's Sarolta Kovacs, ahead of the showjumping round.
World champion and GB team-mate Mhairi Spence is ninth after the swimming.
Showjumping takes place in Greenwich Park followed by a run-and-shoot finale for the last gold medal of the Games.
In the morning's fencing, 26-year-old Spence won 19 of her 35 one-minute contests while Murray won 18. But Murray, 22, is a much stronger swimmer and her fast time sent her up from 16th to third overall.
Spence swam her heat in 2:16.51 ahead of the showjumping, which starts at 14:30 BST and is notorious for its unpredictability.
Riders are given 20 minutes to familiarise themselves with a horse drawn at random, and bids for medals are occasionally - spectacularly - ended when horse and rider fail to find the right wavelength.
Pentathlon's medals are expected to be awarded at around 19:00 on Sunday, shortly before London 2012's closing ceremony begins.