Olympics gymnastics: Brazil's Zanetti stuns Chen for rings title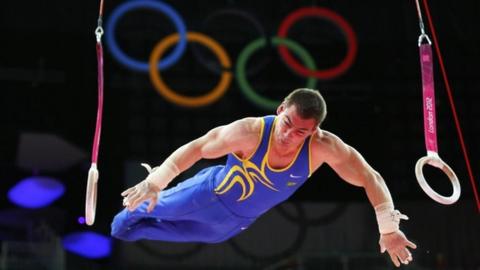 Brazil's Arthur Nabarrete Zanetti shocked defending champion Chen Yibing of China to win Olympics rings gold.
Gymnastics great Chen, gunning for his fourth Olympic title, looked assured of victory after a superb opening routine in the final for 15.800.
But Zanetti, second to Chen at the 2011 World Championships, pulled off a shock by scoring 15.900 as the last to go.
Italy's Matteo Morandi won bronze with a score of 15.766 ahead of Russia's Aleksandr Balandin with 15.666.
Chen, 27, has won eight world championship titles in six years and radiated confidence after starting the final in impressive fashion.
He raised a lone finger in the air when introduced to the crowd then did the same again at the end of his routine, before planting a kiss of delight on the framework of the rings as he celebrated wildly.
He winked to the crowd as a score of 15.800 was given, just weeks after an MRI scan on knee damage sustained while he prepared for the Olympics in Northern Ireland.
But when 22-year-old Zanetti's score leapfrogged his at the final's climax, the Chinese gymnast sportingly embraced and applauded his rival.
This also marked the last Olympic appearance of Bulgarian gymnast Iordan Iovtchev, who is set to retire from the sport at the age of 39 after six Olympic performances.
Iovtchev finished seventh with 15.308 after dropping a knee on landing from the apparatus, but received a warm ovation from the crowd and fellow gymnasts as he waved goodbye to the sport.