Olympics sailing: Tom Slingsby wins Laser, Goodison sixth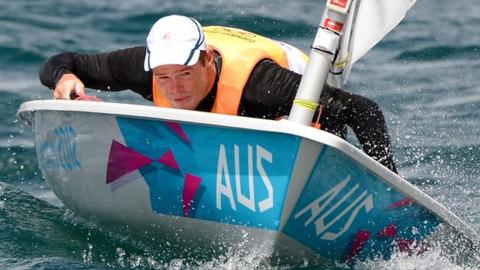 Australia's Tom Slingsby secured Olympic gold in the men's Laser class after holding off a stern challenge from Cyprus's Pavlos Kontides.
World champion Slingsby, 27, took a 14-point lead over Kontides into the medal race and shepherded his rival to the back of the fleet to seal the title.
Kontides bagged silver for his nation's first ever Olympic medal in any sport, with Sweden's Rasmus Myrgren in bronze.
Britain's defending champion Paul Goodison finished seventh overall.
A back injury on day one put paid to a realistic challenge from the Yorkshire sailor.
"It's just frustrating when you feel you're in the shape of your life to have this injury stop you," he said.
"I guess we'll never know what could have been.
"I'm gutted but I'll watch the other Britons come home and I'll do whatever I can to help them. I want them to feel the joy I did four years ago."
The 34-year-old Goodison, who was Ben Ainslie's training partner in Sydney before finishing fourth in Athens, hinted he may return for Rio in 2016.
"The Olympics is so special," he said. "It's a massive thing and one of the things I'm very passionate about. I'd love to do it again."
Asked whether he might enter the new mixed class with partner Saskia Clark, from the women's 470 crew, for Rio, Goodison said: "We've tried sailing together and it ended up not doing so well for our relationship.
Goodison and Slingsby have fallen out over the past few years but afterwards the Briton congratulated the Australian, who went into Beijing as favourite but finished 22nd. "I'm sure the last four years have been hard for him, like it was for me after Athens," said Sheffield's Goodison.
Four years ago Goodison had overcome Slingsby, a five-time Laser world champion, who went to Beijing as the hot favourite but ended 22nd and considered quitting the sport.
But the Australian changed his mind and was unbeaten on the waters of Weymouth coming into the Olympic regatta.
"Words just can't describe how I feel now," "It's been a long road and I've been through the highs and lows of this sport but nothing beats this.
"I've worked so hard. The Olympics is the dream, the pinnacle of the sport and right now I'm the happiest guy on the planet, I can guarantee it."
Slingsby put together a solid series in the opening 10 races and went into the final with only Kontides able to overtake him for gold.
In the pre-start, he tracked and circled Kontides and stuck closely to him throughout the race, preventing the Cypriot from gaining clear air and breaking away. Slingsby finished ninth with Kontides back in 10th.
In the battle for third, Croatia's Tonci Stipanovic was the only man who could overhaul Myrgren but he finished eighth to the Swede's sixth.
Germany's Simon Grotelueschen won the medal race from Uruguay's Alejandro Foglia and GB's Goodison.
Silver medallist Kontides says it has not really sunk in that he has won Cyprus's first ever Olympic medal.
"I was trying to keep away from the media this week to try to keep my focus and even when the medal was guaranteed I didn't allow myself to be emotional because we still had the medal race," he said.
"I guess back home they are waiting for me, when I get there it will be huge celebrations. I still don't understand how huge an achievement this is for my country, the first ever Olympic medal. I guess when I have it around my neck and I get back home with my compatriots I will understand."